Once you've created tickets in HubSpot, you can organize and report on them to keep your service operations running smoothly.
Set up your tickets dashboard and export tickets
Your tickets dashboard (Service > Tickets) lets you manage all of your tickets in one place. You can customize your dashboard views using the left sidebar:
Click the Pipeline dropdown menu

in the left sidebar to view a different ticket pipeline.

Click

+ Add filter to

create saved filters

of your tickets based on specific ticket property values.

Click All saved filters

to select one of your existing saved filters.
You can also switch between two default dashboard views using the tabs in the top left.
The

Table

view lets you see a detailed list of your tickets and ticket properties. To customize which properties appear in this table view, click the

Customize

dropdown menu and select

Edit columns. Click the checkbox next to any property on the left to add it to your dashboard. To remove a property, click the

X

next to it in the

Selected

column.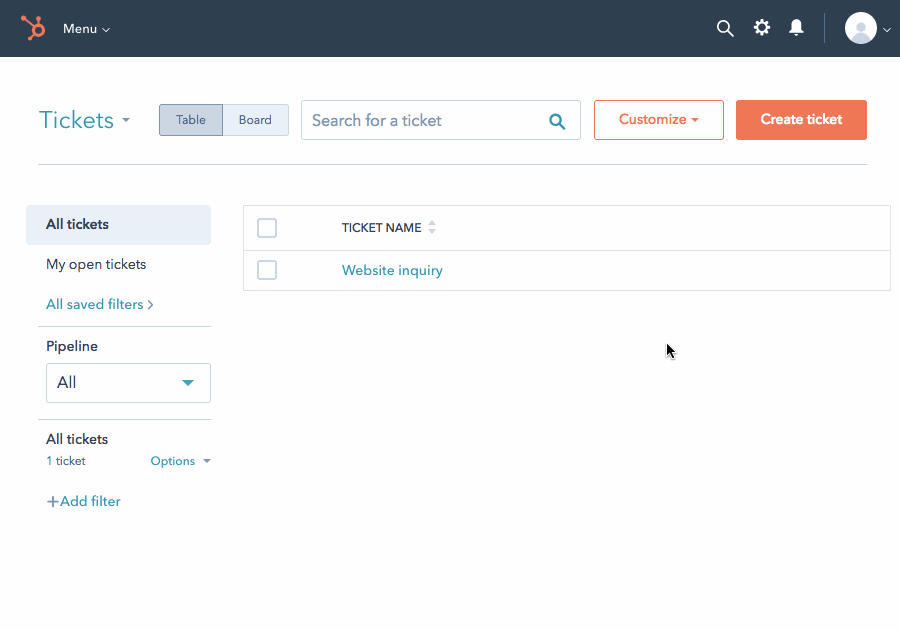 The

Board

view organizes your tickets into lists by status so that you can visualize the state of your tickets queue. In this view, you can drag and drop tickets to move them to a new ticket status.
Once you've customized your dashboard as needed, you can export your tickets by clicking the Options dropdown menu in the left sidebar and selecting Export.
View your ticket details
Hover over a ticket and click Preview to see the ticket details to the right. Here you'll see your default ticket properties and any associated contacts, companies, deals or attachments.
Click
View profile
to open the ticket record.
You can also click the

name of a ticket in the dashboard to go directly to the full record.
At the top of the ticket record you'll see the ticket name, how long it's been open, and its current status in the pipeline. Click the current status to move the ticket to a different status in your pipeline. Click the Actions dropdown menu to delete the ticket and adjust your notifications.
On the right side of the record, you'll see an interaction box where you can create
notes
, send
one-to-one emails
, schedule
calls
,
tasks
,
meetings
, and log other activities.
Any information related to these engagements will appear below on the timeline. Use the

tabs at the top of the timeline to filter your timeline view for specific types of engagements.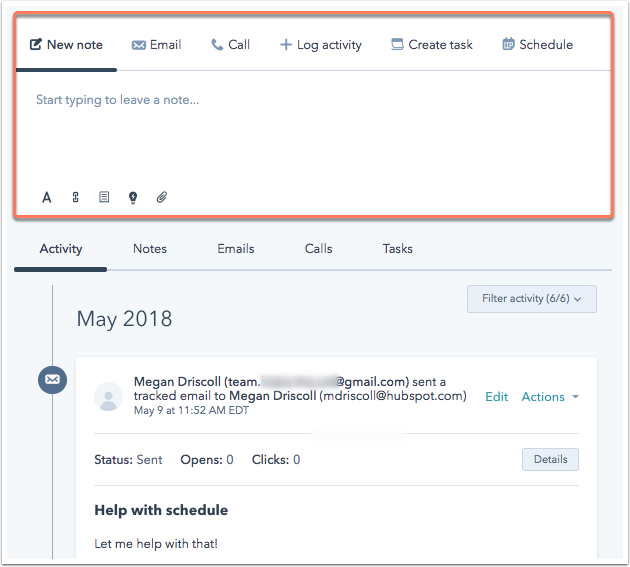 Finally, you can associate your ticket with other records in your CRM to keep relevant details within reach:
Click

Add a company

or Add a contact to associate this ticket with an existing record.
Click Add deal

to associate this ticket with an existing deal or click

Create deal

to create a new deal to associate with this ticket.
Report on your tickets
You can view your ticket performance at a glance in your service dashboard. You can also add other pre-built ticket reports to the dashboard to analyze your tickets by source and owner, and assess how your ticket volume changes over time, or create custom reports based on tickets.