Activities in a record's timeline can be associated to other records. This applies to the records of standard objects: contacts, companies, deals, and tickets.
When an activity is associated to another record, the same activity will appear in that record's timeline as well.
When an activity is logged, they may be automatically associated to other associated records. You can opt to associate a single activity from one record to another, or associate multiple activities when you're creating a new deal or ticket record.
Learn how to associate records with each other and how to customize your email associations when logging them.
Automatic activity

association

HubSpot automatically associates certain activities in a record to some of the record's associated objects. This is determined by the type of activity and the type of object the activity originates in.

There are a few exceptions to the above. For example, an exception is that emails sent and calls made from any object record will also be associated to the relevant contacts that were being emailed or called.

Please note: calls made using the HubSpot mobile app will only log to the contact record that you're calling from. The call will not log to the contact's associated records.

Any additional replies in an email thread will be associated with the same records as the first email in the thread.
Associate an existing activity to another record
Hover over the activity to associate and in the upper right of the activity, click Associated with [X] records.
In the Search all records field, enter the name of the record to associate this activity to. Select the checkbox next to the record.

This activity will appear in that record's timeline.

You can also disassociate an activity by deselecting a record.
Associate multiple activities to a new deal or ticket
In the upper right, click Create deal or Create ticket.
In the right panel, Associate deal/ticket with section, click the Company or Contact dropdown menus, then search and select the company or contact to associate with the new object.
To associate activities on these records to the new object, select the Add timeline activity from [existing record] to this deal/ticket checkbox and click the Last 30 days dropdown menu to select the time-frame where the record's activities will be associated to the new object.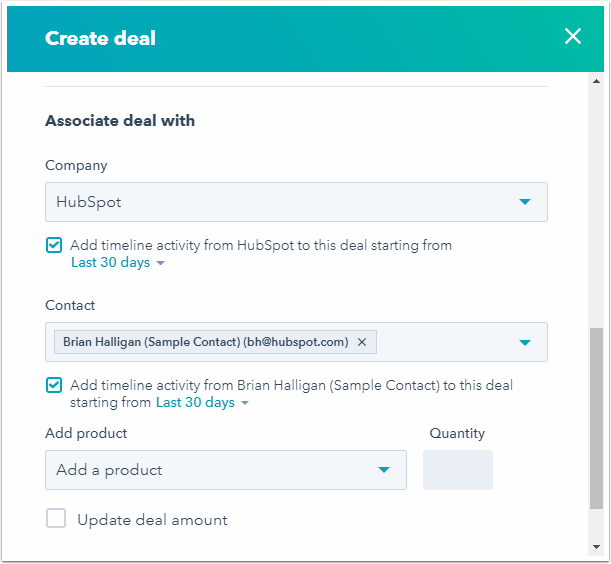 Enter the other fields and click Create. The resulting object should pull in the associated activities from the associated records based on the timeframe selected.
Please note: all activities created before November 13, 2017 will retain their original associations, but you can edit the associations for these activities on the timeline.