In HubSpot, there are four standard objects you can create: contacts, companies, deals, and tickets. To keep track of the relationships between these objects, you can associate these records together. Associations are always two-way (i.e., if record A is associated to record B, record B is also associated to record A) and can be seen in each record in the right panel.
Examples of when you'd associate records include:
When making a sale, you communicate via email to three individuals at the same company. In HubSpot, you associate the deal to the three contact records and their company record.
When handling a customer complaint, you communicate via email to two individuals. These individuals are also in the middle of a sale with your company. In HubSpot, you can associate the ticket record to the two contact records and the deal record.
You can also associate the activities in a record's timeline to appear in another record. If the records are already associated together, some activities will automatically be associated to the associated records.
Please note: a contact record can be associated to only one company record. Learn more about association limits in the Technical Limits section in HubSpot's Products & Services Catalog.
There are different ways to associate records:
To manually associate a record with another:
In the right panel, locate the relevant object section and click

Add. For example, if you want to associate a deal with the record you're in, look for the Deals section and click Add.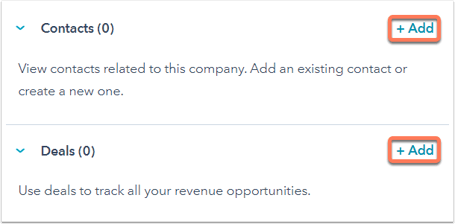 You can either create a new record to associate to the contact, or associate an existing record to the contact.

To create a new record to associate the ticket to, in the Create a new [record] tab, enter information in the fields, and click Create.

To associate an existing record, click the Add existing [record] tab, search for the record you want to associate to the current record, and select the checkbox next to the record in the search results. Click Save.