Set up tasks to be created when a deal moves from stage to stage.
Please note: to automate tasks on deal stages, you need to either be a Super Admin in your HubSpot account or have Account access.
In your HubSpot account, click the settings icon

settings

in the main navigation bar.
In the left sidebar menu, navigate to Sales > Deals.
Select an existing pipeline from the dropdown menu, or click Options and select Create new pipeline to create a new sales pipeline.
Click the Automation tab.
To automatically create a task in a specific deal stage, in the deal stage's column, click + Create workflow.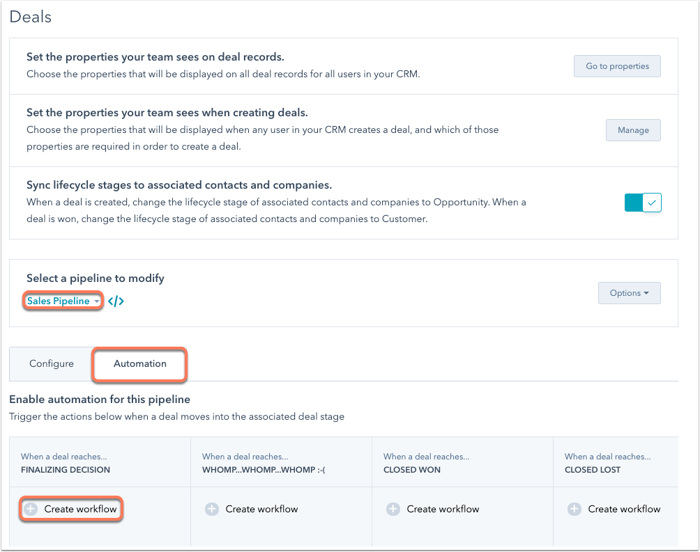 In the right panel, click Create task and customize the details of the task:

Title: enter the task's name. If you wish to add a deal token to the title, click the Deal token dropdown menu and select a property to add.
Due date: select the Immediately radio button to set it to be done now, or select At a set date to specify a date and time for the task's deadline.
Email reminder: if you wish to send an email reminder to the task's assignee, click At a set date to specify a date and time for the email send.
Notes: enter a quick description of what the task entails.
Type: choose the task's type from the dropdown menu: Email, Call, or To-do.
Associate with records: select the records that the created tasks will be associated with. Associations are related to the deal that enters the workflow.
Priority: click and select if the priority for this task is high.
Assign Task to: click the dropdown menu to select Deal's existing owner or a Specific user.
Which owner?: click the dropdown menu to select to use the default Deal owner property, a custom HubSpot user property or a specific user.
When you're done, click Save.