There are daily send limits for both one-to-one emails and sequences emails sent from your connected email accounts in HubSpot. HubSpot will alert you when you're close to hitting either send limit. These limits apply to a rolling 24-hour period and do not reset at a specific time of day.
| | |
| --- | --- |
| Limit | Definition |
| HubSpot send limit | A daily send limit on one-to-one emails sent from an inbox connected to HubSpot. This limit applies to emails sent from a personal inbox or from a team email address connected to the conversations tool. |
| Sequences daily send limit | A daily send limit on automated emails sent via sequences. This includes any sequences emails that are scheduled to send from previous or new sequence enrollments. Your send limit varies depending on your HubSpot subscription. |
HubSpot send limits
There is a daily send limit on one-to-one emails sent from a connected inbox. This daily send limit applies to emails sent from a personal inbox or a team inbox. These limits prevent you from exceeding your email provider's send rate limit. HubSpot send limits vary based on each email provider's limit:
Gmail Free: 350 emails per day
Google Apps: 1000

emails per day

Office 365: 1000

emails per day

Exchange inbox: 1000 emails per day

Generic inbox: 1000

emails per day
Limits for inboxes connected with Exchange or IMAP vary depending on your mail client; learn more about rate limits for Gmail and Office 365.
Please note: a provider's rate limit sometimes include additional limits, such as a bandwidth limit. Therefore, it's possible that you could reach your provider's limit even if you haven't exceeded the number of allotted email sends. Additionally, keep in mind that connecting the same Office 365 account multiple times to a HubSpot account can cause you to quickly hit the rate limit error. It is recommended to connect the Office 365 email to a single user's account.
Sequences daily send limits
If you're a user with an assigned Sales Hub Professional or Enterprise or Service Hub Professional or Enterprise seat, you also have a daily send limit for emails sent in sequences. You can review your send limit in HubSpot's Product & Services Catalog.
The sequences send limit is based on the number of sequences email sends on a given day, not the number of new enrollments. The limit includes all emails sent immediately when a contact is newly enrolled in a sequence and any scheduled sends from previous enrollments. For example, if your sequences daily send limit is 500 and you already have 450 emails scheduled to send on a given day, you can only schedule an additional 50 sequences email sends that day.
HubSpot will notify you if you try to start a sequence with emails to send on a day when the limit has been reached.
To enroll contacts in sequences, you'll need to update the date of the email send.
If you're close to your daily limit, you will see a yellow error message in the bottom right corner telling you how many sequence emails you have left to send that day.
If you see a red error message in the bottom right, you have hit your send limit. To see which email you need to update, select All contacts from the left panel. The email step will be listed at the top. Navigate to the email step, then use the dropdown menus to update the date of the send.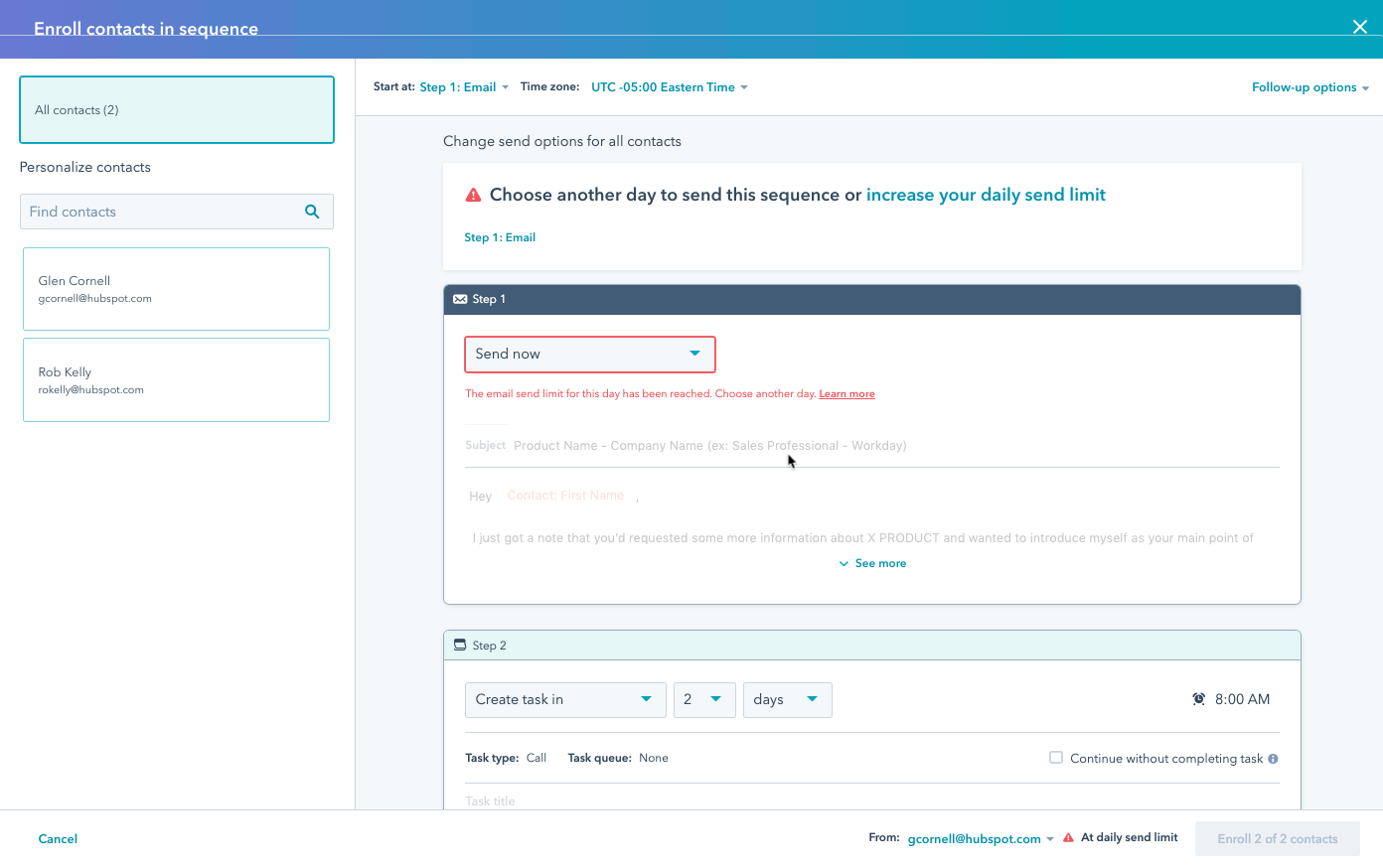 You can also monitor your sequences scheduled emails to gauge how many emails you have queued to send. To monitor your team's sequence sending behavior, review your sequence sender score report.