Under the General Data Protection Regulation (GDPR), companies need a lawful reason to use and process contact data and must keep records of consent and evidence other lawful purposes of processing.
The contact property Legal basis for processing contact's data allows you to collect, track, and store lawful basis of processing via contract, legitimate interest, and/or consent for your HubSpot contacts.
Please note: while this feature lives in HubSpot, your legal team is the best resource to give you compliance advice for your specific situation.
To view and/or edit this property:
In your HubSpot account, click your photo or avatar in the top right-hand corner, then click

Settings

.

In the left sidebar menu, click Properties.
In the Contact properties tab, search for and click the property Legal basis for processing contact's data.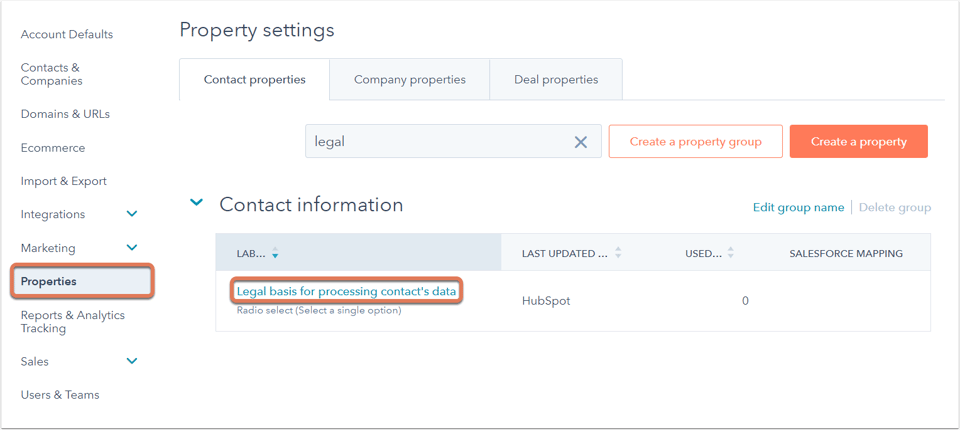 In the property, you'll see four default property options:

Legitimate interest - prospect/lead

Legitimate interest - existing customer

Performance of a contract

Freely given consent from contact

Not applicable

To select a property value for a contact:
Navigate to Contacts in your HubSpot account.
Click the name of a contact.
In a contact's About section, click View all properties.
Search for and click the Legal basis for processing contact's data property.
Select a value for the property and then click Save.
In addition to manual contact creation, you can add consent and lawful basis to contacts via a list import or bulk edit.