In order to import contacts, companies, deals, tickets, or products into HubSpot, you'll need to have your import data stored in a file on your computer.
During the import process, you'll have the option to map the columns of your file to properties in HubSpot. Below are examples of how your files should look like:
These example files are not formatted to act as sample import files as they include certain notes on formatting your import file. Open and view them for further advice on formatting your import file.
You can include most properties in your spreadsheet when importing a file into HubSpot. You can also set up a single import file for notes when you are importing and associating two separate files. These are recommended and required fields for each object listed below:
Contacts
First Name (recommended; separate column from Last name)
Last Name (recommended; separate column from First name)
Email (required for deduplication)
Companies
Company domain name (required for deduplication)
Deals
Deal name
Pipeline
Deal stage
Tickets
Ticket name
Ticket status
Products
Notes
Import considerations
Ensure that your import file contains fewer than 250,000 objects and is smaller than 150MB.

Ensure that your file is UTF-8 encoded.

If your spreadsheet has a column header that does not correspond to an existing property in HubSpot, you will be prompted to create a custom property for it.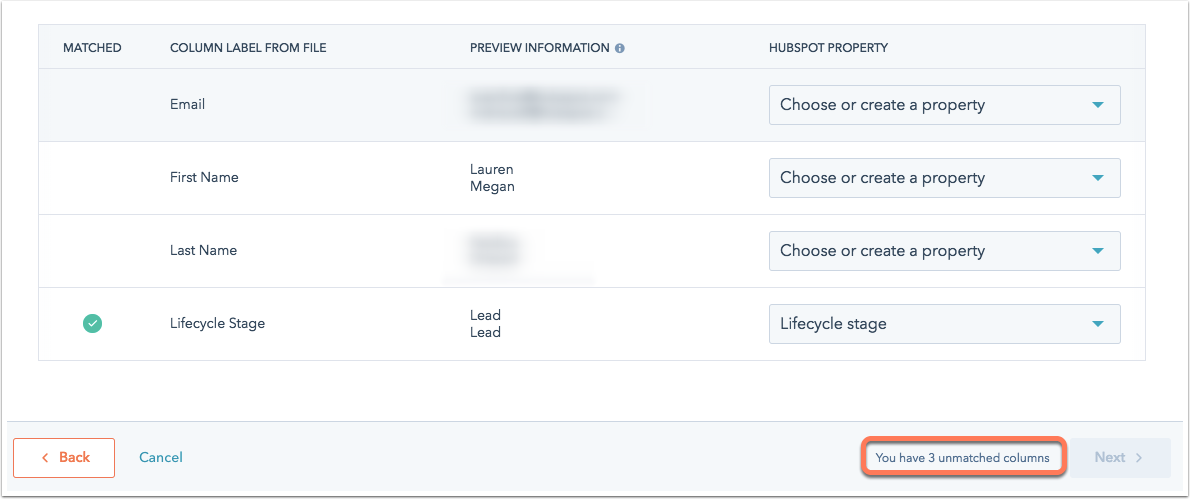 Companies can automatically be associated with contacts based on the company domain name and email address of contacts.
Other record types can also be associated through an import.
Contacts and companies will be deduplicated based on email address and company domain name, respectively. Rather than creating a duplicate record, HubSpot will update the existing record with the data from the imported spreadsheet.
Contacts, companies, deals, and tickets can each be deduplicated based on object ID. This is a unique ID number included in the first column of each export from HubSpot.
To import the Term property for products, format the value for products in the Term column as:

PXM, where X is the number of months (e.g. P6M, for a term of 6 months); or
PXY, where X is the number of years (e.g. P1Y, for a term of 1 year).

To import the Recurring billing frequency property for products, use monthly, annually, or quarterly if the product has a recurring price type. Leave the cell blank if the product has a fixed price type.
Please note: that Excel does not always properly save special characters when a CSV file type is in use. You can import your list into Google Docs to resolve this.