You can connect an email address to HubSpot to power the tools in your account. Depending on your goal, you will want to connect either a personal email or a team email.
There are a few things to keep in mind when choosing an inbox connection:
You cannot use a single email account as

both

your personal email and team email in HubSpot. If you need to use both the conversations tool and send one-to-one emails, you must connect two

different

email accounts.
If you connect a team email to the conversations tool, you

cannot

connect that same email address to the meetings tool.
Connect a personal email
Connect your personal email to manage your emails with prospects and contacts, and track their interactions with your emails. When you connect a personal email to HubSpot, you can send one-to-one emails from the CRM, log email replies to the CRM, send sequences emails, and install HubSpot Sales to access the sales tools in your inbox. Some HubSpot tools require a personal email connection. You can connect multiple personal emails to HubSpot that your user can use to send emails.
A personal email should be unique to your user and not used by anyone else on your team. It should be the email address you typically use to send emails to your contacts, such as your company email address. Learn how to connect your personal email in your email integrations settings.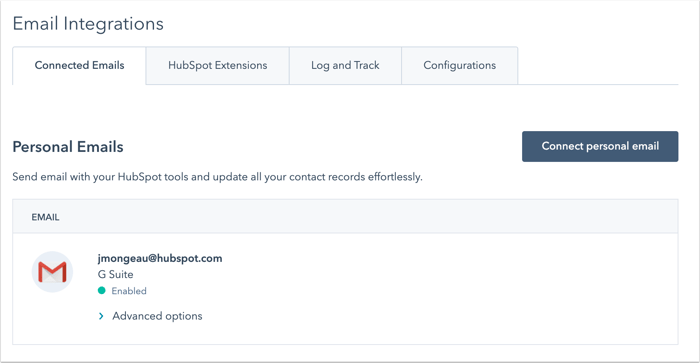 After connecting your inbox, you can install the HubSpot Sales Extension, manage your log and track preferences, and set a default font for all emails sent from the CRM.
Connect a team email
Connect a team email to the conversations inbox so your team can view, manage, and reply to emails in the conversations inbox. A team email is a shared email address that multiple users have access to and use to communicate with customers.
Depending on your product subscription, you can create multiple conversations inboxes in your account. For example, you can create an inbox for your support team to manage incoming customer inquiries, and an inbox for your sales team to use when reaching out to prospects. While you can have multiple inboxes, a team email address can only be connected to one of inboxes in your account.
Please note: if you see an error that the email that you're trying to connect has already been connected, check with the other users in your account to make sure they didn't connect this email address as a personal email. If this email address is associated with a user that no longer exists, re-create the user's account and then disconnect the inbox.
All incoming emails sent to a team email will be visible to your entire team, so do not connect an email account that you use to send personal emails.
Connect a team email in your inbox settings.
You can now use this team email address to compose and reply to emails in the conversations inbox. You can also edit the from name that displays on emails sent from this inbox, or edit your routing rules.