Use HubSpot's Shopify integration
Last updated: April 1, 2021
Once you have connected the Shopify app to your HubSpot account, you can analyze your data in HubSpot and automate your orders with workflows.
If you have not connected your HubSpot account to Shopify, you can do this here.
Analyze your Shopify data in HubSpot
After the initial import of your Shopify data is complete, you'll be able to see your Shopify Products, Customers, and Orders your in HubSpot Ecommerce Settings.
Products: the following properties sync between Shopify and HubSpot products:

Title
Body_HTML
Created at
Handle
Images
Product type
Published at
Published scope
Tags
Vendor
Price
Please note: product variants cannot be synced to HubSpot using this integration.
Contacts: Shopify customers and abandoned cart contacts sync with HubSpot contacts, and are deduplicated by email address.

If a contact does not exist with the same email address in HubSpot, a new contact will be created if the Shopify customer or abandoned cart contact was created with an email address. If a HubSpot contact already exists with the same email address, Shopify will update the contact

if a value exists for the property in Shopify (i.e., the property is not blank)

.

The following properties sync between Shopify and HubSpot contacts:

Accepts marketing
Created at
First name
Last name
Email
Phone
Note
Orders count
Tags
Tax exempt (checkbox)
Verified email (checkbox)
Street address
City
Country
State/Province
Zip code

Please note: Shopify can store a customer's phone number in 2 sections; Customer overview and Default address. HubSpot will only sync with the phone number field in the Customer overview section.
Orders: Shopify orders sync with HubSpot deals in the Ecommerce pipeline, which is automatically created when the Shopify integration is set up. Each order is associated with a product(s) and customer when synced from Shopify, and the corresponding deal in HubSpot will be associated with a product(s) and contact.

The following properties sync between Shopify orders and HubSpot deals:

Abandoned checkout URL
Buyer accepts marketing
Customer ID
Cancel reason
Cart token
Cancelled at
Created at
Currency
Financial status
Fulfillment status
Landing site
Name
Note
Order number
Processing method
Referring site
Source name
Subtotal price
Taxes included
Token
Total discounts
Total line items price
Total price
Total tax
Total weight
Please note: a Shopify order with an associated customer that was not created with an email address will sync over to HubSpot as a deal without an associated contact.
After your Shopify store(s) is connected to HubSpot, Ecommerce reports will be added to your account.
To create an Ecommerce dashboard:
In your HubSpot account, navigate to Reports > Dashboards.
In the top right, click Create dashboard.
In the left panel, navigate to Ecommerce.
Click the Ecommerce template.
In the right panel, review the prescribed reports. Clear the

checkboxes

next to the reports you don't want to include, then click

Next.
In the right panel, enter a

dashboard name.

Set the user access to this dashboard

In the bottom right, click

Create dashboard.
The 8 default reports added to your account include:
Order snapshot
New sales processed summary
New vs existing ecomm business
Lifetime order value by source
Average order value by source
Sales processed this month vs. goal
Net new customers vs. last month
Abandoned cart recovery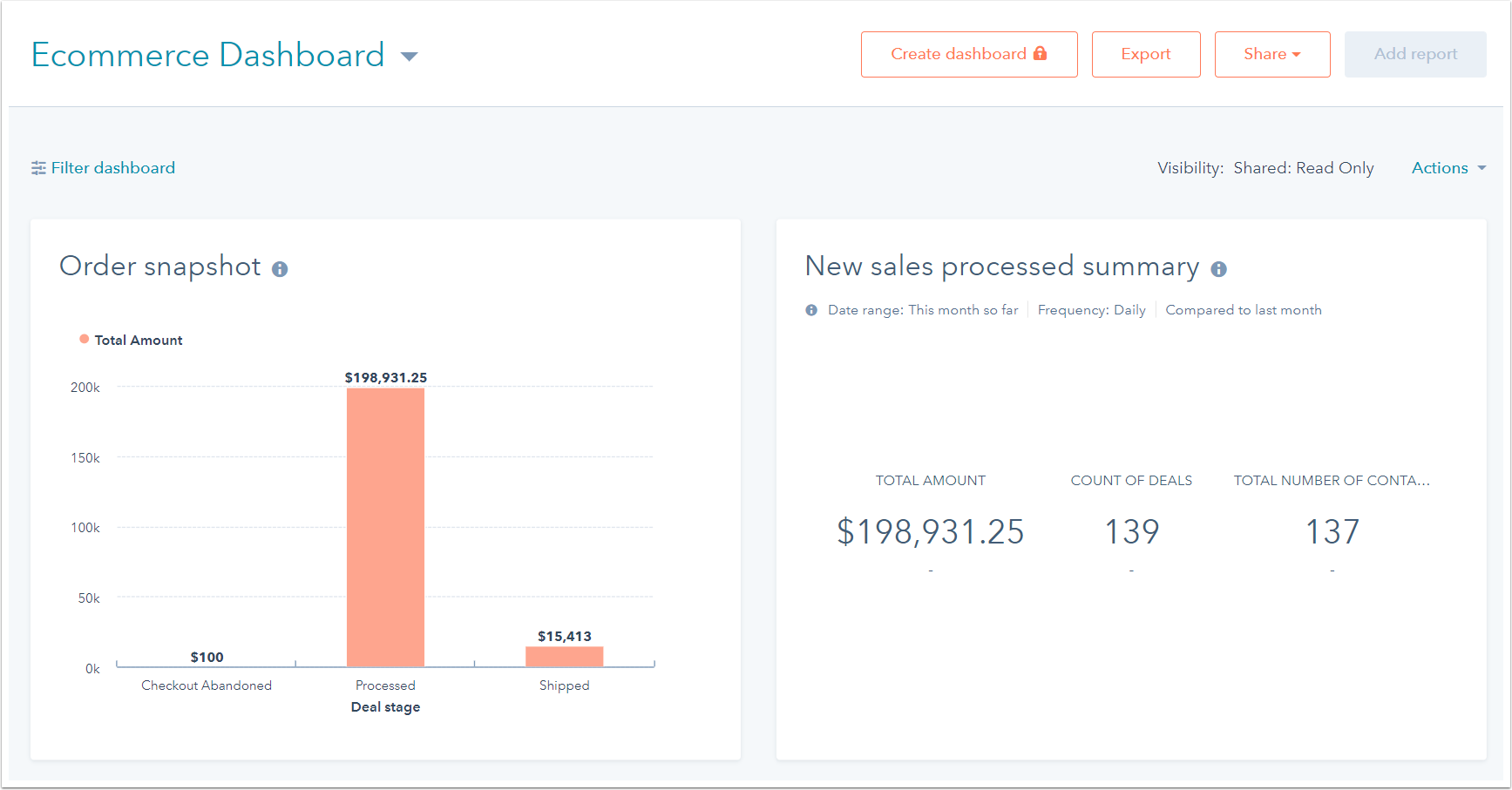 To customize the attributes of a default Ecommerce Dashboard report:
Hover over an existing report and click the Actions dropdown menu, then select Edit.
Customize your report by editing the Filters, Measures, Visualization, and Data as needed.
After you've made your changes, click Update on dashboard. This report in your dashboard will be updated to reflect your changes.
Please note: default dashboard reports are updated over time by HubSpot. After a default report has been customized on your dashboard, it won't be updated to show the changes to the default report. You can add the latest version of any default report to your dashboard by clicking Add report and browsing the Ecommerce reports in the left sidebar menu.
Segment contacts based on products (Marketing Hub Starter, Professional,
or

Enterprise only)

You can use line item properties to segment your HubSpot contacts by the name of their product:
In your HubSpot account, navigate to Contacts > Lists.
In the upper right, click Create list.
In the left panel, select Line item properties and search for and select the Name property.
Select is equal to any of or contains any of, then enter the product name in the field and click Create option.
Click Apply filter.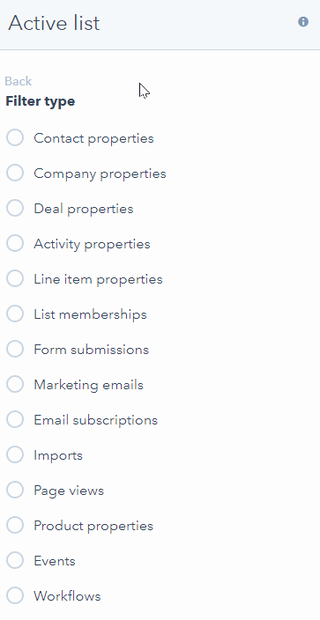 In the top left, click Name your new list and enter a name, and choose if the list is Active or Static.
To create the list, click Save.
Create a custom abandoned cart email (Marketing Hub Professional and Enterprise only)
Create and customize your abandon cart email to re-engage customers.
Click + Add at the top of the layout inspector. Search for or select the Vast Email Cart Summary module and the Vast Email Back to Cart Button module, then drag them to the location you want the module to render in the layout.


Click Publish changes.
Create an automated email using your new template. Customize your email by inserting personalization tokens.
This email will now be available to use when creating workflows to automate your abandon cart emails.
Please note:
The Vast Email Cart Summary module includes the token line_item.description, this token will work for HubSpot products only and not Shopify products.
When sending a test email from the email editor, the line_item personalization tokens will not populate. The tokens will populate as normal when the email is sent to a contact.
Automate ecommerce campaigns (Marketing Hub Professional or Enterprise only)
Create workflows to follow up with contacts who are engaging with your ecommerce campaigns.
In your HubSpot account, click the Marketplace icon

marketplace

in the main navigation bar. Under Manage, select Connected apps.
Click Shopify and select Set up an ecommerce workflow.
Click Create workflow below one of the three ecommerce workflow types:

New customer (deal-based workflow): triggered when a contact makes their first purchase, this workflow welcomes new customers with a series of emails.
Abandon cart (deal-based workflow): triggered when a contact navigates away from a full cart, this workflow r

eminds your contacts to place an order.

Re-engagement (contact-based workflow): triggered when a contact has not made a purchase in a set number of days, this workflow sends your contacts a series of r

e-engagement emails.

In the right panel, the Recommended section displays actions which are recommended for that workflow. You can view more actions by clicking See more. Select an action to add it to your workflow.
Set up your action, then click Save.
To add another action to the workflow, click the plus + icon.
When you're done, click Click here to review and turn on.
You'll be redirected to the workflow in the workflows tool. In the upper right, click Review.
Review the workflow settings, then click Turn on.
Please note:
You cannot modify enrollment triggers in the default ecommerce workflows. To use an ecommerce workflow with different triggers,

clone the workflow.
The default ecommerce workflow emails use ecommerce email templates. These templates include custom, deal-specific modules, and can be modified in the design manager. At this time, deal personalization is limited to email templates that are created or selected for the Abandoned Cart Recovery ecommerce workflow.
Frequently asked questions
Will contacts synced over from Shopify be tracked in HubSpot?
Contacts that are created in HubSpot as part of the initial import from Shopify when the integration is first set up will have an Original source drill-down 1 value of INTEGRATION_SYNC and an Original source drill-down 2 value of integrations-sync. These contacts will not be cookied, and have to convert on a HubSpot form or click through a HubSpot marketing email sent from your portal to a page that has your HubSpot tracking code before they can be tracked in HubSpot.
Contacts that are synced over and created in HubSpot after the Shopify integration is set up will have Original source drill-down 1 and Original source drill-down 2 values based on their original source type as determined by Shopify. These contacts will be cookied and will be tracked in HubSpot as soon as they sync over from Shopify.
Do I need to add the HubSpot tracking code to my Shopify store pages?
No. Once you integrate HubSpot and Shopify, the connector will automatically add your HubSpot tracking code to all of your Shopify store pages.
What happens if I delete my Shopify product/customer/order?
When you delete deals and products in Shopify, the corresponding deals and products in HubSpot will be deleted. When you delete customer records in Shopify, the corresponding contacts will not be deleted in HubSpot.
What happens if I delete my HubSpot contact records that were created via Shopify?
When contacts in HubSpot that were created via Shopify are deleted, the corresponding customer records will not be deleted in Shopify. However, these contacts will not be re-created if their records are updated in Shopify.
How does HubSpot determine when an order has been abandoned at checkout?
An order will have a deal stage of Checkout Abandoned in HubSpot if the Shopify order is created and not completed within 24 hours. After 24 hours pass, the order will move from Checkout Pending to Checkout Abandoned.
Can I use HubSpot to send Shopify invoice emails?
At this time, it's not possible to use HubSpot to send Shopify invoice emails or other transactional emails for completed Shopify purchases. The Shopify integration is designed to conduct marketing activities for ecommerce in HubSpot and keep transactional activities in Shopify.

Can I use third-party Shopify integrations with the HubSpot-Shopify integration?
Yes. However, if the third-party integrator creates deal records for orders, having both integrations can create duplicate deal records. The deal records created by the HubSpot-Shopify integration can be identified by the deal property EComm Synced.