Connect the Jira integration to create and update Jira issues within HubSpot from the ticket record. You can also use the workflows tool to send notifications to your team and analyze your Jira issues using new Jira properties.
Integration requirements
Install the integration
In your HubSpot account, click the Marketplace icon marketplace in the main navigation bar and, select Connected apps.

In the upper right, click Visit App Marketplace.

Use the search bar to locate the Jira integration.

Click Connect app in the top right corner.

Review the required permissions, then click Accept.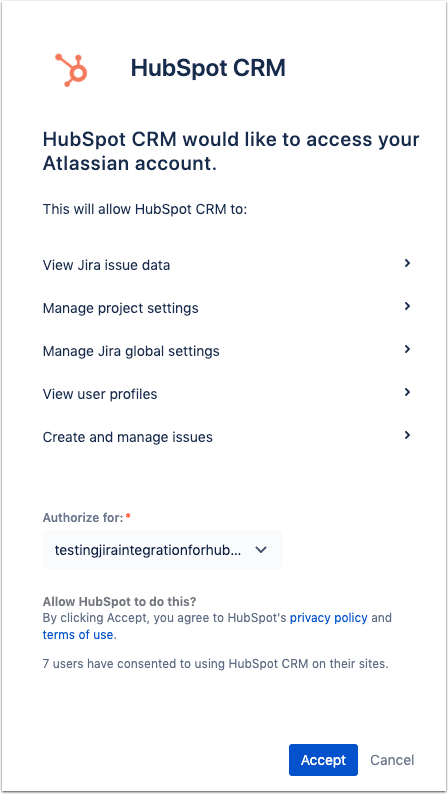 Using the Integration
Once the integration is connected you can create a new Jira issue from a ticket record, attach an existing Jira issue to a ticket, and automate and report on tickets using the workflows tool.
Create and manage Jira issues
In your HubSpot account Services > Tickets.

Click the name of a ticket.

In the right panel in the Jira section, click Associate Jira issue.

In the dialog box, click the dropdown menu and search for an existing Jira issue or click Create new Jira issue to create a new Jira issue. If creating a new Jira issue, enter the details for the Jira and add any relevant attachments.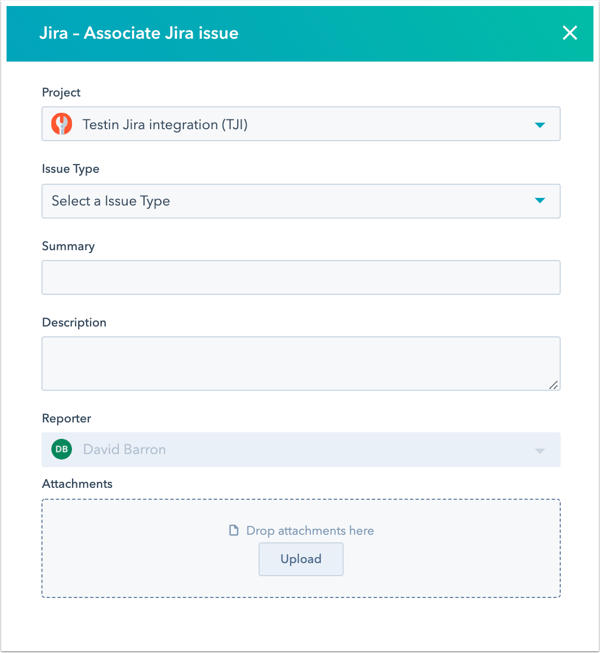 Click Attach Jira issue if you have selected an existing Jira issue, or click Create Jira issue if you have created a new Jira issue.

The Jira issue will appear in the Jira section on the associated ticket, contact and company records.

To view comments from the associated Jira issue on the ticket timeline, in the middle panel, in the

Activity

tab, click the

Filter activity dropdown menu.
In the Integrations section, select the Jira checkbox. Comments from Jira will now sync and display on the ticket timeline.
Please note:
You can associate

only

one Jira issue per HubSpot ticket. However, you can have multiple HubSpot tickets associated with one Jira issue.
To modify the reporter of a Jira issue, the integrations user must have Modify Reporter access in Jira.
It is not possible to set the value for Jira Issue Assignee, Jira Issue Priority and Jira Issue Status properties in the Jira section on a ticket record.
Automate and report on tickets and Jira issues
With the Jira integration, you can create workflows to send notifications to your team or to the customer as Jira issues are updated and resolved. You can also create custom reports to analyze your tickets to view which Jira issues have the highest number of HubSpot tickets attached.
When the Jira integration is connected, the below properties will be added to your account and are available to use in workflows and reports:
Jira Issue Status

Jira Issue Summary

Jira Issue ID

Jira Issue Priority

Jira Issue Assignee

Jira Issue Identifier

Jira Issue Link

Jira Issue Reporter
Please note: it is not possible to edit Jira related property values in HubSpot.