Use HubSpot's integration with DocuSign
Last updated: December 17, 2020
Use the DocuSign integration to create, customize, send and track DocuSign envelopes from a contact, company or deal record in your HubSpot account.
Integration requirements
Install the integration
In your HubSpot account, click the

Marketplace icon

marketplace

in the main navigation bar, then select

App Marketplace

.

In the upper right, click Visit App Marketplace.
Use the search bar to search for the DocuSign integration. Hover over it and click View integration.
Click Connect App, and log in using your DocuSign details.
Login to your DocuSign account.
When the integration is installed, you will be redirected to your Connected apps page.
Create and send documents
You can select an envelope template from your contact, company and deal records. When a template has been selected you can add recipients and edit your subject line and message.
In your HubSpot account, navigate to contacts, companies or deals.

Click the name of a record.

In the right panel in the

DocuSign

section, click

Send from a template

.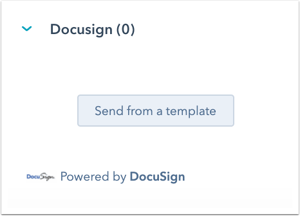 Select your template, then click Next.
In the next screen, customize your envelope:
1. Review documents in your envelope: verify the documents in your selected template.

2. Add recipients to your envelope by searching your HubSpot contacts. When sending an envelope from a contact or deal record, the name and email of the recipient will be auto-populated.
Add recipients to your envelope.
Click the + to add more recipients.
Click X to remove recipients.
Select a Recipient type.

3. Customize the email message for your recipients: add an Email subject and Message for recipients. If you want to write a different message for each recipient select the Custom email message for each recipient check box.
Click Send to recipients.
If you'd like to edit your document, click Edit documents. Then, click the Actions dropdown menu to edit your document:

Edit Message:

edit the subject line and message that will accompany your document.
Edit Recipients:

edit the recipients that will receive the document.
Edit Documents:

edit the documents that will be sent to your recipients. You can upload new documents, use a template or upload from cloud.
Advanced Options:

edit recipient privileges, set up reminders, set an expiration date, and enable comments.
Shortcut Keys:

edit and set up shortcut keys as an alternative to mouse controls to perform common actions on recipient fields.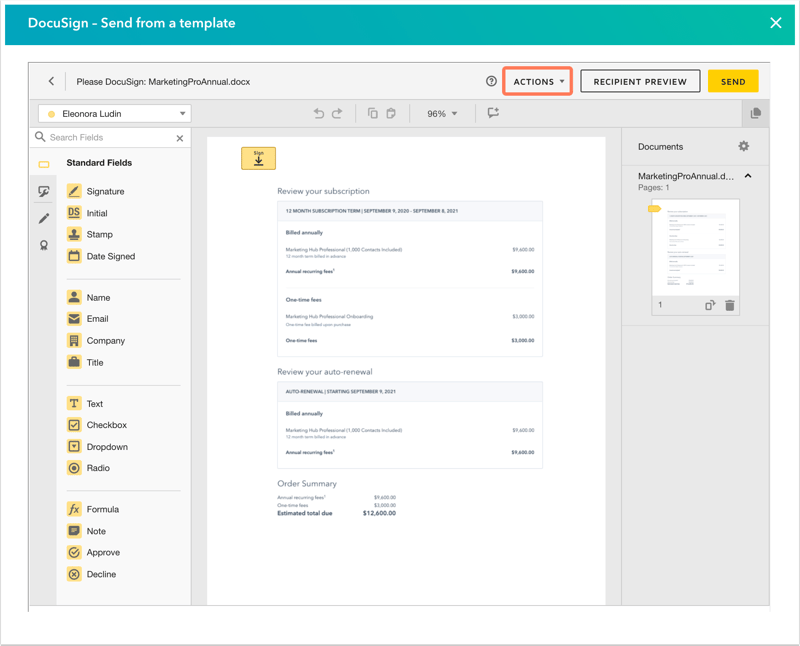 When you are finished editing, click Recipient preview to preview the document.
To send the document, click Send.
When the document has been signed by the recipient the status on the contact, company or deal record will change to Completed.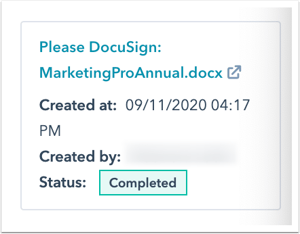 Use DocuSign events to trigger workflow actions (Marketing Hub, Sales Hub and Service Hub Professional and Enterprise)
You can trigger workflow actions from DocuSign events in contact workflows.
In your HubSpot account, navigate to Automation > Workflows.

Click Create workflow.
Select Contact-based as your workflow type, then click Create workflow.
Click the Contact enrollment trigger to add an enrollment trigger. In the right panel, select DocuSign: Contact timeline event template.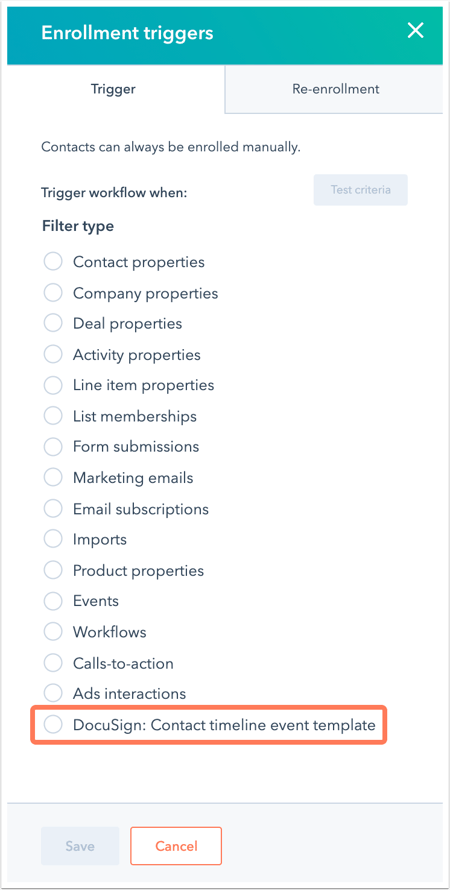 Once your enrollment triggers have been set you can add actions.
Table of contents
/integrations/use-hubspots-integration-with-docusign?