Use a workflow to automate the process of creating a new deal in HubSpot and reduce administrative processes for sales representatives.
In your HubSpot account, navigate to Automation > Workflows.
Click the name

of an existing workflow, or

create a new workflow.
Click the plus icon + to add a workflow action.
In the right panel, select Create record.
Click the Type of record to create dropdown menu, then select Deal.
Set the Deal name, Deal pipeline and stage, Amount, Currency, and Close date.
In the Assign to dropdown menu, select how you want new deals to be assigned:


[Object]'s existing owner: by default, new deals will be assigned to the enrolled record's existing owner. If the enrolled record isn't assigned, the new deal won't be assigned to anyone. To select a custom owner property, click the Which owner dropdown menu and select the owner property.
Specific user: assign the deal to a specific user. To select the user, click the Which owner dropdown menu, then select the user.
No one: the deal will not be assigned to anyone.

Set the Yearly Contract End Date if the deal is contract-based.
To set additional properties for your deals, click

Set another deal property.
To copy a property on the current object to a property on your new deal, click

Copy a property to a deal property.
Please note: the source and target properties must have compatible field types in order to be copied. Incompatible properties will not appear as options in the target property in your workflow action. Learn more about compatible source and target properties for copying property values in workflows.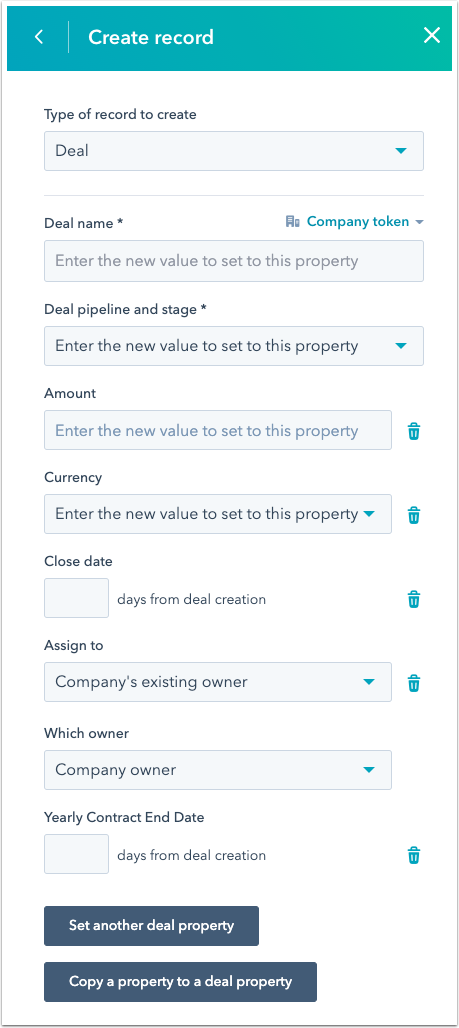 Set up your new deal associations:

By default, deals created by a workflow will be associated with the record that was enrolled in the workflow.
To copy all timeline activity from the enrolled record to the new deal record, select the

Add timeline activity from the enrolled [object] to the deal.
To associate the deal with other record types, select the checkboxes next to those record types.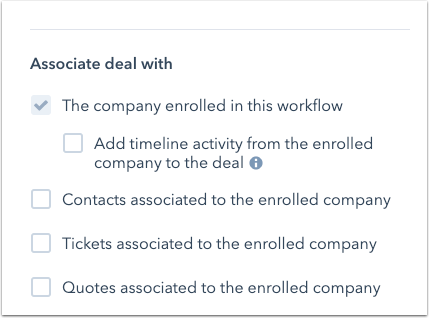 Once the workflow is reviewed and turned on, a deal will be created

for every object that executes the

Create a deal

action.