Send a customer support survey to your customers to let them score their experience with one of your support reps.
To set up a customer support survey:
In your HubSpot account, navigate to Service > Customer Feedback.
In the Customer support section, click Set up survey.
1. Delivery
This is the channel your survey will be delivered through, with Email selected by default. Click the Customize tab to continue.
2. Customize
Customize the branding and appearance of your survey:
Set the from name and from address that your survey will be sent from. You can select the name and address of any user in your account.
Enter your company's name in the

Company name

field.

Customize the

Subject line

for your survey email.
Click the Survey language dropdown menu and select the language you want the survey to be in.
Select one of the

default color options, or set a custom color by entering a

hex value

or clicking the

color picker

to the right.
Click the
Follow-up
tab to continue.
3. Follow-up
Customize your follow-up question to discover why customers gave you the score they did:
Click the 0 - 3 Difficult tab to enter text for customers who gave a low score.
Click the 4 - 5 Neutral tab to enter text for customers who gave a neutral score.
Click the 6 - 7 Easy tab to enter text for customers who gave a high score.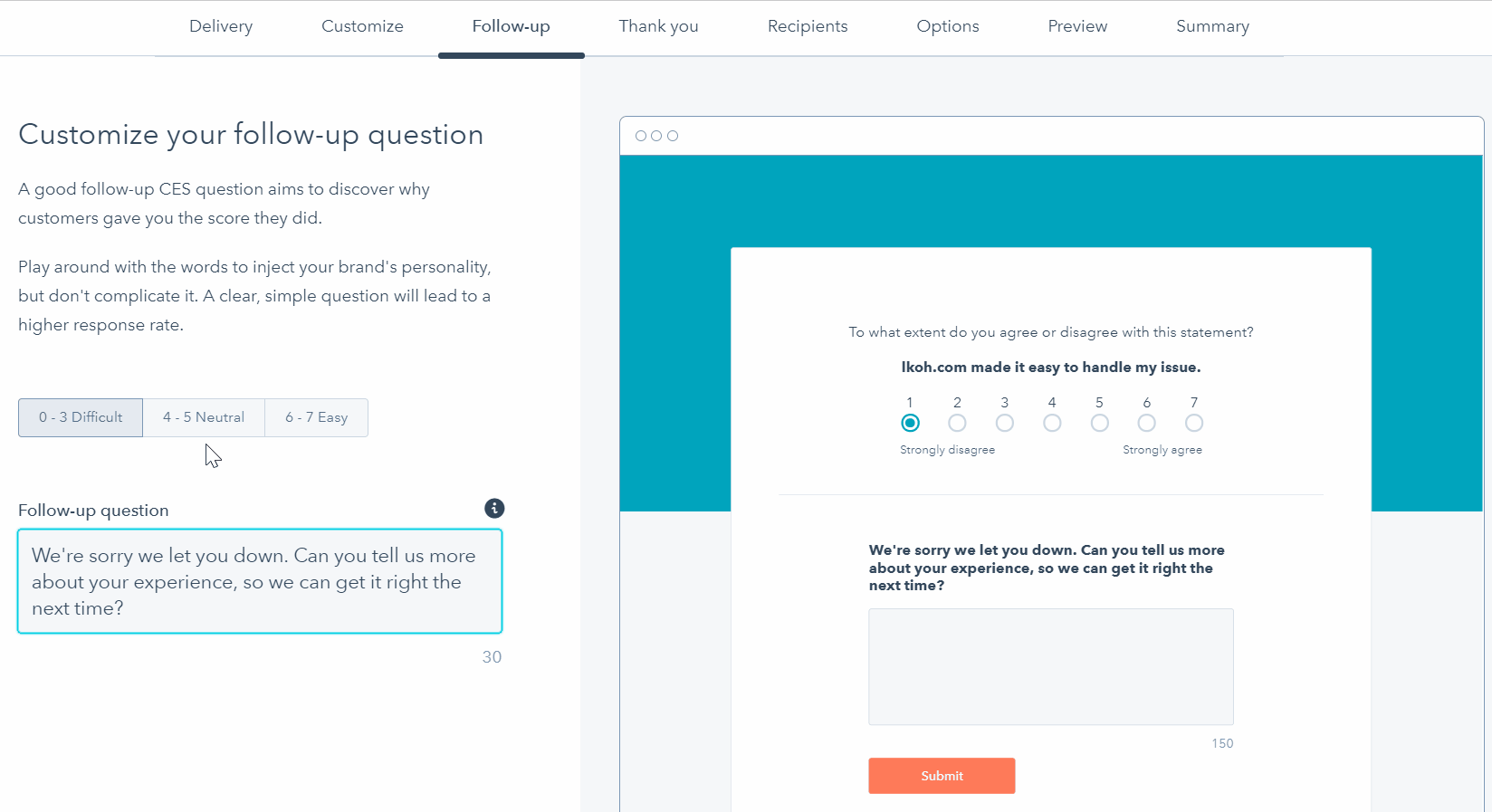 Click the Thank you tab to continue.
4. Thank you
Customize your thank you message a customer will see after submitting their survey response:
Click to toggle the Show illustration switch on or off to show or not show the default illustration with your thank you message.
Enter a header for your thank you message in the Header text field.
Enter a message for your visitors in the Body text field.
Click the Recipients tab to continue.
5. Recipients
Choose when the survey will be sent:
In the Send the survey field, enter the number of hours after a ticket has been closed that you want to send the survey email to your customers.
To send the survey to customers in a specific ticket pipeline, click the dropdown menu and select the pipeline.
Click the Options tab to continue.
6. Options
Choose where and how your survey appears:
Click the When customers have submitted feedback send email notifications to dropdown menu and select teams and/or individual users to receive email notifications when a customer submits a support survey.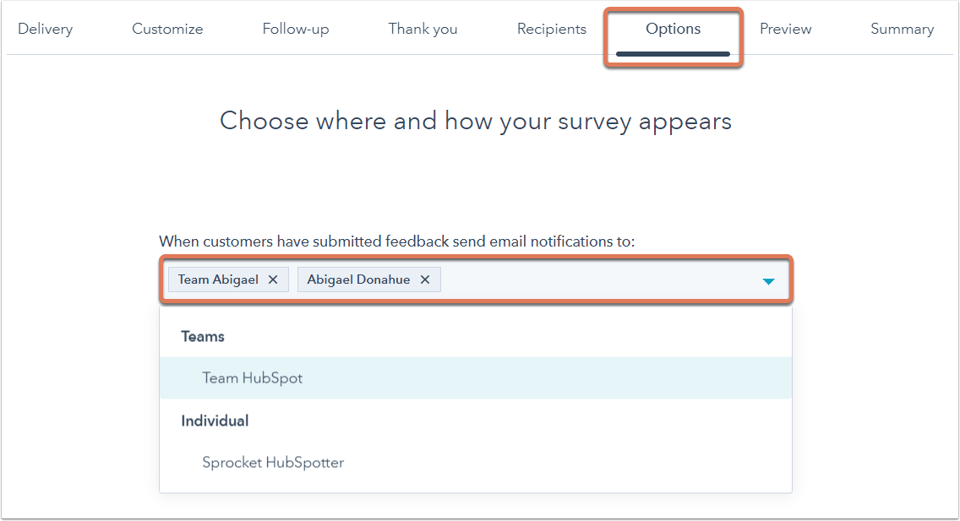 Click the Summary tab to continue.
7. Summary
Review your survey settings and take some time to ensure that the settings in previous steps have been set up correctly:
Click Preview to see how the survey will appear on desktop, tablet, and mobile.
Click Test to send a version of the survey to yourself.

When you're done, c

lick

Publish

to take your survey live.