Learn how to set up and use the LinkedIn Sales Navigator integration with HubSpot's free sales tools or your Sales Hub account.
Please note: you must have a LinkedIn Sales Navigator Team or Enterprise account.
What's included with this integration?
Gain valuable insights from LinkedIn right within your HubSpot contact and company profiles. No new browser tabs required.

Find, understand, and engage with related leads and mutual connections.
Add leads to your

leads list to receive updates in your Sales Navigator homepage.
It is currently not possible to import contacts from LinkedIn using the integration.
Setting up the LinkedIn Sales Navigator integration
In your HubSpot account, click your account name in the top right corner, then click Integrations.
Click the All Integrations tab and search for LinkedIn Sales Navigator. Click View Integration.
Click Sign in with LinkedIn to authorize the integration with LinkedIn.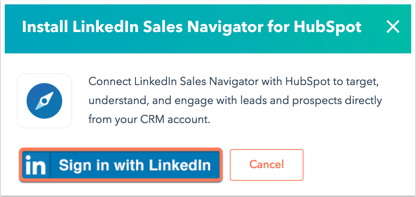 Using LinkedIn Sales Navigator in HubSpot
Navigate to any contact or company record in HubSpot to view information from LinkedIn in the left sidebar menu.
For contacts, you'll be able to see the contact's job title, company, time in their current role, location, and industry. For companies, you'll be able to see the company's industry, size, and location.
Within the LinkedIn Sales Navigator card for your contact or company records, click View more to access a more detailed view with additional features.
For contacts, you'll see tabs for:
Icebreakers - view shared connections, experiences, and interests, plus a link to the contact's recent activity stream.
Get introduced - ask a mutual connection for an introduction to your contact.
Related leads - quickly find other leads at the same company and add them to your Sales Navigator leads list.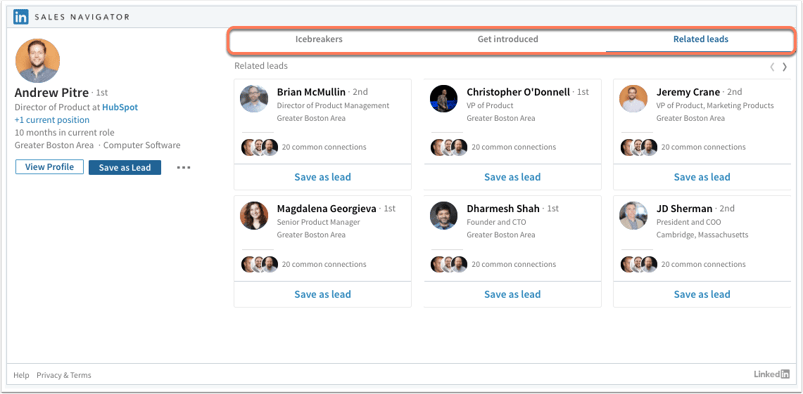 For companies, you'll see the following tabs:
Recommended leads - connect with other leads at the company who you share interests and experiences with.
Connections - view contacts at the company who you are already connected with.
News - view company news to add context to your sales outreach.