In the website analytics tool, you can analyze your content's performance with detailed filters such as bounce rate, average time on page, and more. These reports can also be added to any dashboard and shared with your team.
In your HubSpot account, navigate to Reports > Analytics Tools.
Click Website Analytics. You'll see a detailed visual chart of your website analytics with a table of data below.
You can also navigate to the website analytics tool from the website dashboard by clicking View website/landing page/blog analytics in the left sidebar navigation.


Use the filters at the top of your dashboard to set up your report:

Date range: select from a list of default date ranges, or specify a custom time period for your report.
Frequency: select whether the data is charted on a daily, weekly, or monthly basis.

Please note: a week in the report starts on Sunday by default, when the date range consists of a week, or when the selected frequency is Weekly.

Page types: select your blog posts, landing pages, or website pages to report on.
Filter content: filter your content to analyze pages on a specific domain, or blog posts from a specific blog, author, or tag.
Include unpublished pages: select the checkbox to include unpublished pages in your report. This may be useful if the content on any of your draft pages or posts was previously published.

Use the dropdown menu at the top of the chart to choose

the metric you want to see in your data visualization. You can see any of the following metrics for your content:




Page views: the number of times your page was loaded in a visitor's browser.
Submissions: the number of submissions on a form on your page or blog post.
New contacts: t

he number of new contacts created during the selected timeframe.

Customers:

the number of customers whose

first

conversion occurred during the selected timeframe
Submission rate: the number of visitors who submitted a form divided by the number of sessions for the selected time period.
Contact conversion rate:

t

he number of new contacts divided by the number of sessions for the selected time period.

Views to customer rate: the number of visitors who are currently in the lifecycle stage of Customer divided by the number of sessions for the selected time period.
Entrances: the number of sessions on your website that started on this page.
Exits: the number of visitors who ended their session on your website after viewing this page.
Average time on page: t

he average time between the start and end of a page view.

Bounce rate:

the percentage of visitors to a particular website who navigate away from the site after viewing only one page.

Exit rate:

the percent of views on this page that were the last in a visitor's session on your site.

CTA views: the number of CTA views on this page.
CTA clicks: the number of clicks on a CTA on this page.
AMP views (blog posts only): a breakdown of how many times the AMP version of your blog post was viewed compared to the number of times it was viewed on a desktop.
CTA %: the conversion rate of how many visitors clicked on a CTA they viewed on this page.

Use the Style dropdown menu to change your chart type. You can choose an area chart, column, line, or a combination of an area and line chart in your data visualization.
Below your chart, there's a table with detailed metrics for your analytics. You can use the search bar at the top of this chart to look up a specific page or post by name. To sort your data by a specific metric, click on that column heading.
Click Edit columns to change the metrics included in your report. You can choose up to 7 of these metrics to populate the columns of this table.

Select the Properties checkbox to add a metric to your report.
Click the X next to any of the Selected columns to remove it from your report.

To re-order the selected columns in your report, click on a property and drag it into place.

Click Save to apply your changes.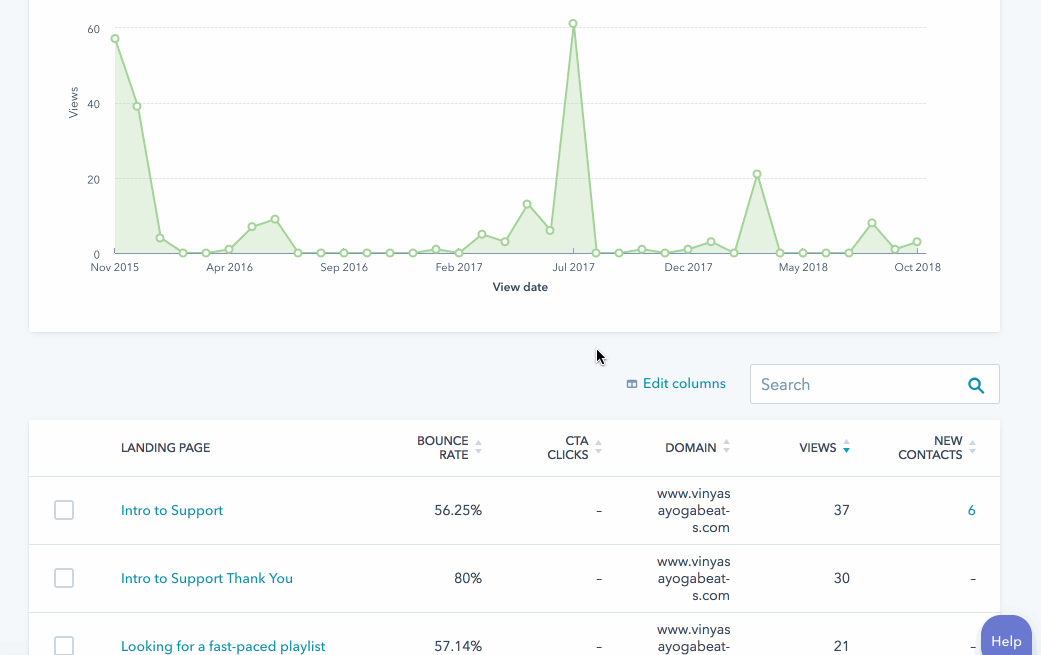 Once you've finished customizing your report, you can share your report or save it to a dashboard:

Click Export to share a file of all the metrics in your table via email.
Click Save as report to add this report to one of your dashboards.