With HubSpot's free sales tools or a Sales Hub account, you can use task queues to organize similar tasks into one place and cycle through them for easy task completion with a lot less clicks.
Follow the instructions below to learn how to create and use task queues. A task can be added to a queue from the tasks dashboard or directly from a sequence. Please note that there is a limit of 10 task queues per user and 500 tasks per queue.
In your HubSpot account, navigate to Tasks. Make sure you're in the Table view.
In the left sidebar menu, click Add a queue.
Give your new queue a name and click Save.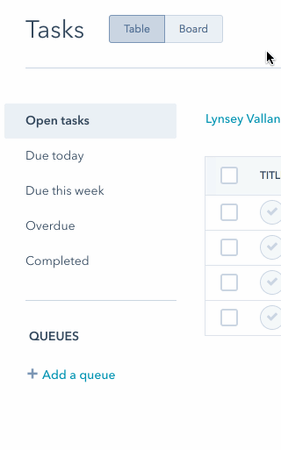 Now that you have your queue(s), you can add tasks to a specific queue by checking the box next to any task(s).
Click + Add to queue and select a queue from the dropdown menu, then click Add. You can also click Create a queue during this step, and then select it for your task.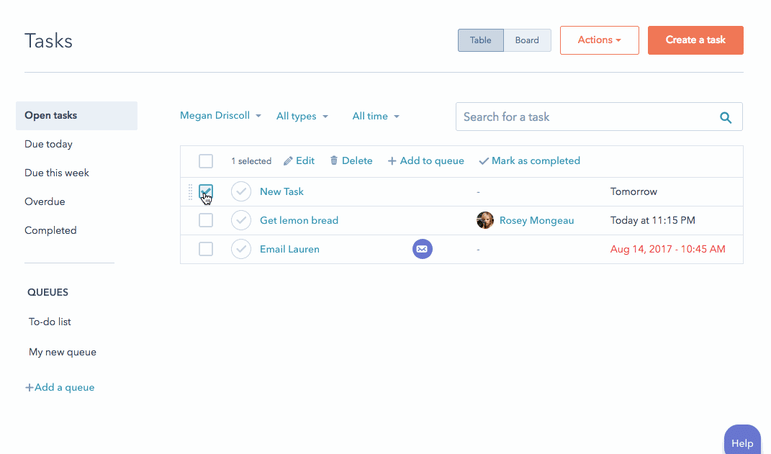 To begin completing tasks in a queue, click the name of your queue and click Start queue.
You will be taken to the relevant record where you can complete your task by clicking the checkmark within the given task, then Next.
If you'd like, you can also choose Skip if you want to leave a task uncomplete and move onto the next task.
To delete a task queue:
Navigate to the tasks dashboard by clicking Tasks.
Select your task queue from the left sidebar menu.
Click Actions in the top-right corner of the screen, and select the option to delete your task queue.