Your sales dashboard includes five reports by default, each designed to give you an overview of your sales process. Learn how to customize the reports on your dashboard.
To view your sales dashboard:
In your HubSpot account, navigate to Reports > Dashboards.
In the upper left, click the name of the current dashboard, and select Sales Dashboard.
Team activities by activity date
This report shows you activities of your team sorted by date. You can click an activity to view the activity in the record's timeline.
Contacts created and worked totals with deals created and won totals
This report shows you the statistics for:
Number of contacts created;
Number of contacts assigned to a user;
Number of contacts worked (i.e., has a call, email, or meeting in the contact timeline within the date range);
Number of new deals created; and
Number of deals closed-won.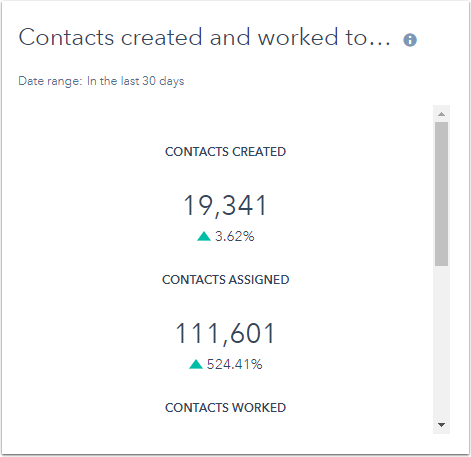 Deal revenue forecast by stages
This report shows you the amount of forecasted revenue for deals in your deal pipeline. This is calculated by multiplying the deal amount of each deal by the deal stage probability.
Deal closed totals vs goal
This report shows you the revenue from closed deals compared to your team's quota or a custom goal. You can use this report to track your team's progress over time and to help set better sales goals. This report includes deals that were closed as won within the selected date range.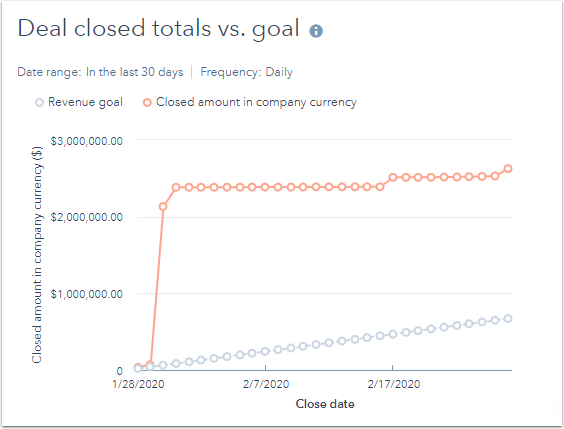 Team activity totals
This report shows you your team's activity based on the activities they've logged on their contacts' timelines:
To view the specific activities for each statistic, hover over the statistic and click Quick view. You can then click a specific activity to view it on the contact's timeline.

Please note: tasks will appear on the productivity report when the due date for the task is within the selected time range.