Connect your Microsoft Teams account with HubSpot to send your contacts Microsoft Teams meeting links and to receive HubSpot notifications in Microsoft Teams.
Integration requirements
You must be a Super Admin or have

App Marketplace permissions

in your HubSpot account.
You must be an administrator for Microsoft Teams. If you're not a Microsoft Teams administrator, you will need to contact your Microsoft Teams administrator to give you access.
Install the Microsoft Teams Integration
Click the link in the email you have received.
In the top right click Connect app.
In the pop up window, log in to your Microsoft Teams account.
You will be redirected to your integration settings. Click to toggle the teams you are connecting to HubSpot.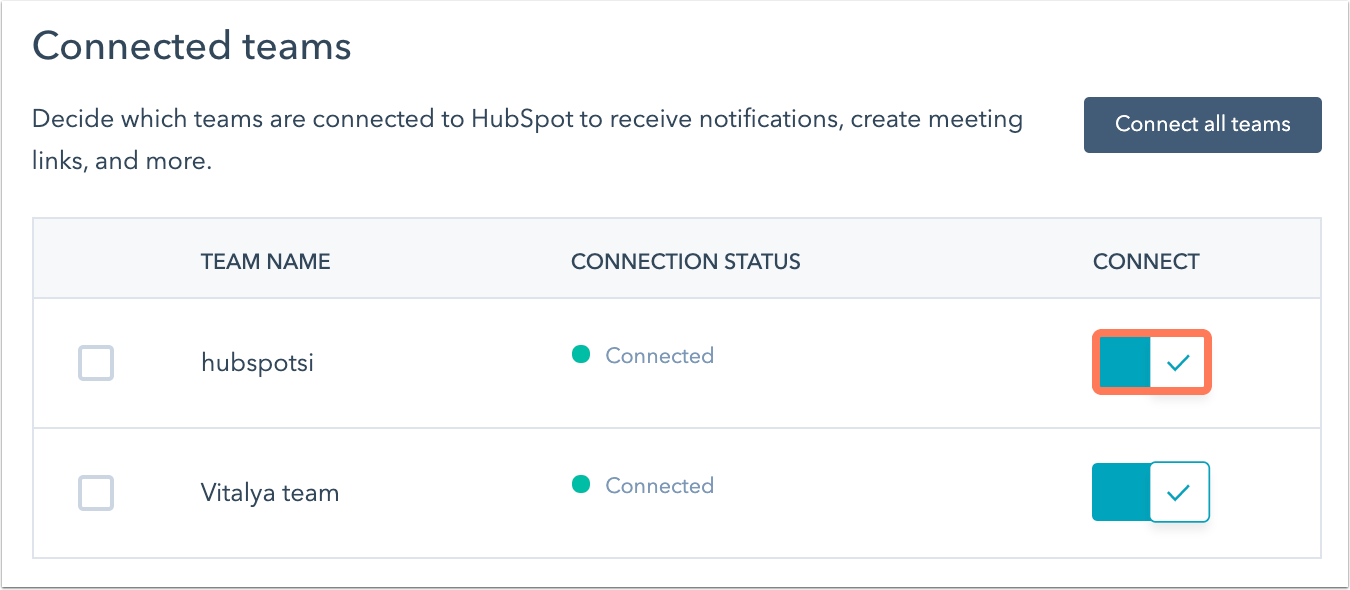 Use the integration
You can use the Microsoft Teams integration to send meeting links to your contacts and receive Hubspot notification in Microsoft Teams.
Add Microsoft Teams meeting links
to your meetings
In your HubSpot account,

navigate to your contacts, companies, deals, or tickets.
Click the name

of the record.
In the left panel, click

meetings

Meet. In the window that opens at the bottom of the screen, set up your meeting.
Click

insertVideo

Insert link to video conference icon and select Microsoft Teams. A Microsoft Teams link will be added to your scheduled meeting.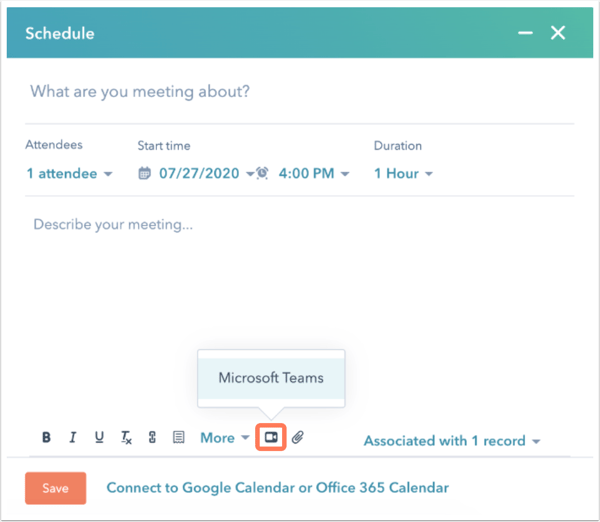 Please note:It is not possible to update meeting links once a Microsoft Team's link has been created in HubSpot. To update the link in HubSpot, a new meeting must be created.
Receive
HubSpot activity n

otifications

in Microsoft Teams

The following HubSpot notifications will be sent to Microsoft Teams:
Assign
Comment
Follow
Mention
Overdue
Reminder
Reply
Submission
View (i.e. document view)

To disable all notifications, a notification type, or specific notifications from being sent to Microsoft Teams:
In your HubSpot account, click the settings icon

settings

in the main navigation bar.
In the left sidebar menu, navigate to Notifications >

Other apps.
Click to toggle the Microsoft Teams switch

off

to disable all HubSpot notifications in Microsoft Teams.