With the Zoom integration, you can add video conference links to scheduled meetings in HubSpot and easily add registrants to your Zoom webinar using a workflow.
Integration requirements
Please note: it is not recommended to connect your Zoom account to multiple HubSpot accounts.
Install the Zoom integration
In your HubSpot account, click the Marketplace icon

marketplace

in the main navigation bar. Under Manage, select Connected apps.
In the upper right, click Visit App Marketplace.
Search for the Zoom integration, then hover over it and click View integration.
In the dialog box, click Connect to Zoom.
Enter your Zoom login credentials, then click Sign in.
You'll be prompted to grant permission for Zoom for HubSpot to access your Zoom account. Click Allow.
You'll be redirected back to HubSpot, with a dialog box informing you that Zoom for HubSpot was installed.
Add a Zoom link to your meetings links
Please note: your HubSpot user email address must match your Zoom user email address in order to add a Zoom videoconference link to your meetings links.
You can add a Zoom videoconference link to your meetings links to automatically create a Zoom meeting when prospects book one on one time with you. Learn more about setting up the meeting tool and creating meeting links.
In your HubSpot account, navigate to Sales > Meetings.
Hover over the meeting link you want to add a Zoom video conference to and click Edit. Or click Create meeting link.
If you are editing an existing link, select Configuration in the left sidebar menu. If you are creating a new meeting link, enter your meeting details, then click Next.
In the Configuration section, click the Add videoconference link dropdown menu and select Zoom.
Click Save.
When a prospect books a meeting with you, a link to the videoconference will be automatically added to the calendar invite. If you are using the Google Calendar two-way integration with HubSpot, learn more about adding a videoconference link to a meeting scheduled from a record in the CRM.
View Zoom webinar registration and attendance details
Once you've connected your Zoom account, you can sync webinar registration and attendance details from Zoom to HubSpot and use the information to segment your contacts. The following properties will appear on contact records and be automatically updated as contacts register and attend your Zoom webinars:
Average Zoom webinar attendance duration: the average percentage of each webinar that the contact attends. A 100% value for this property, for example, would mean that the contact stays for the full duration of each webinar.
Last registered Zoom webinar: the URL of the webinar the contact most recently registered for. This is

only

populated if the contact was added as a registrant to the Zoom webinar using a HubSpot workflow.
Total number of Zoom webinar registrations: the total number of webinars the contact has registered for.
Total number of Zoom webinars attended: the total number of webinars the contact has attended.
Zoom webinar events also appear on contacts' timelines, showing you the webinar date, when a contact joined and left the webinar, and the amount of time the contact was in attendance.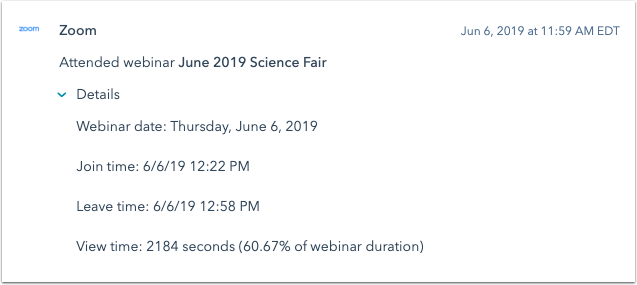 Add registrants to a Zoom webinar using workflows
Please note: HubSpot's integration with Zoom only accepts three required fields in the Zoom registration link: First name, Last name, and Email. If the registration link requires any other fields, the registration workflow action will fail.
Add your contacts from HubSpot to your Zoom webinar using a workflow action:
In your HubSpot account, navigate to Automation > Workflows.
Create a new workflow or hover over an existing workflow and click Edit.
In the workflow editor, click the (+) plus icon to add a new action.
In the right panel, select Add contact to Zoom webinar.
Enter your Webinar ID, then click Save.
Please note: the webinar ID value must be formatted with hyphens, like in this example ID:123-456-789.
Add any additional workflow actions.
Click Review, then click Turn on to activate your workflow and add contacts to your webinar.
When a contact is added to a webinar, the contact property Last registered Zoom webinar will be updated with the URL of that webinar.
You can use this property as a personalization token in your emails, or segment contacts in a list by webinar URL.
For example, you could create a list using the criteria "The contact property Last registered Zoom webinar contains [webinar URL]" and create a list of all of your webinar registrants for that particular webinar.


Please note: the Last registered Zoom webinar property is a single text field and will be overwritten if the contact is enrolled in another workflow that adds them to a Zoom webinar.