Users with permission to edit account defaults can customize visitor cookie tracking and privacy policy banners to comply with EU cookie laws and the General Data Protection Regulation (GDPR).
A privacy alert allows visitors to opt in or opt out of being tracked in your HubSpot account with cookies. This feature works for all HubSpot pages as well as any external pages with your HubSpot tracking code installed.
Please note: while HubSpot has cookie tracking and privacy policy settings, your legal team is the best resource to give you compliance advice for your specific business circumstances.
How does HubSpot track website visitor activity?
HubSpot uses cookies to track your website visitors and contacts. A cookie is a small text file that is left behind on a visitor's computer when they come to your site. When the HubSpot software runs on your website, it leaves behind a cookie on your visitors' computers that helps HubSpot identify them on future visits.
Do I need to adjust my privacy policy?
If your business has a presence in Europe, or if you store any data on contacts in the European Union (EU), you must adjust your privacy policy to comply with EU laws. The EU has mandated that member countries create laws that require websites to gain consent from end users prior to storing data on a website visitor's computer. These regulations are designed to help your website visitors protect their privacy and determine how their behaviors online are used by others.
Under the GDPR, if a contact of yours is an EU citizen, they must be given notice that you're using cookies to track them (in a language they can understand), and they need to consent to being tracked by cookies.
HubSpot allows you to set this privacy policy, show it to your visitors, and prompt them to consent to allow cookies to comply with EU regulations.
Set up your cookie policy
Please note: only users with permission to edit account defaults can set up and edit cookie policies.
1. Customize your default cookie policy
In your HubSpot account, click the settings icon

settings

in the main navigation bar.
In the left sidebar menu, navigate to Cookie policy.
Click Default policy.
In the right panel, you have the following options:

Use cookies: click to toggle the switch on to track your visitors with cookies.
Notify visitors that your site uses cookies: click to toggle the switch on to display a notification to your visitors to show that your site uses cookies.
Require opt-in: click to toggle the switch on to require users to opt in to cookie tracking.

If you toggle the Notify visitors that your site uses cookies switch on, you can customize the following fields:

Notification terms text: text displayed in your privacy banner.
Accept button label: button text visitors click to accept your privacy banner's terms.
Decline button label:

button text visitors click to decline your privacy banner's terms.

Disclaimer text: text displayed if opt-in is required for tracking.

When you're done, click Apply

.
If you want to allow users to edit or revoke their consent, you will need to work with a developer to implement that functionality using the HubSpot Tracking Code API. Learn more about implementing additional consent status and cookie removal functions in the developers documentation.
Please note: if you're using the HubSpot ads tool to add a pixel to pages with the HubSpot tracking code, your privacy policy banner will automatically display when the pixel fires on your pages. If you require visitors to opt into cookie tracking, the pixel will not be able to place any cookies until the visitor confirms their consent.
2. Add a new cookie policy (optional)
You can choose to show different versions of your cookie consent message based on domains, subdomains, specific URL paths, or both domains and URL paths that you specify. For example, you can choose not to have an opt-in banner for your US site, and only require an opt-in banner for your EU site.
Click + Add policy in your cookie policy settings. In the right pane, you have the following options:
Policy label: this is the title of your privacy banner.
Domain: enter a domain or subdomain where your banner will appear.

This must be entered as a d

omain

without

the protocol (e.g., hubspot.com

or

info.hubspot.com

is acceptable, but not

http://info.hubspot.com

).

URL Path: set a subdirectory for a more targeted banner (e.g., if the French version of your website is hosted on the /fr subdirectory, enter fr)

.
Please note: if a page URL matches multiple policy rules, the most specific rule will take priority (in order from most to least specific: (sub)domain and URL path, URL path, (sub)domain, then the default policy). For example, you may have three policies for the following domains and or URL paths: info.hubspot.com, info.hubspot.com/fr, and /fr. A visitor to info.hubspot.com/fr/offer will see the info.hubspot.com/fr policy, while a visitor to info.hubspot.com/fr will see the policy for the /fr URL path.
Click the Choose a language dropdown menu to select a different language for your policy. Alternatively, you can click Start from scratch to customize the notification terms text, accept and decline button labels, and the disclaimer text for a different language.

When you're done, click

Apply

.
3. Customize your cookie policy banner
Next, customize the colors and style of your cookie policy banner.
In the Cookie notification style section, click Check out new styles.
Choose an accent color for the banner by selecting a default color or selecting a custom color.

Click the

Notification type

dropdown menu and select

Top banner

or

Bottom banner

depending on where you want the banner to appear on your site.
In the bottom left, click

Save

.
4. Publish your cookie policy

To publish a policy, click to toggle the switch

on to the right of the policy. In the bottom right, click Preview

to see how the privacy policies will appear on your site.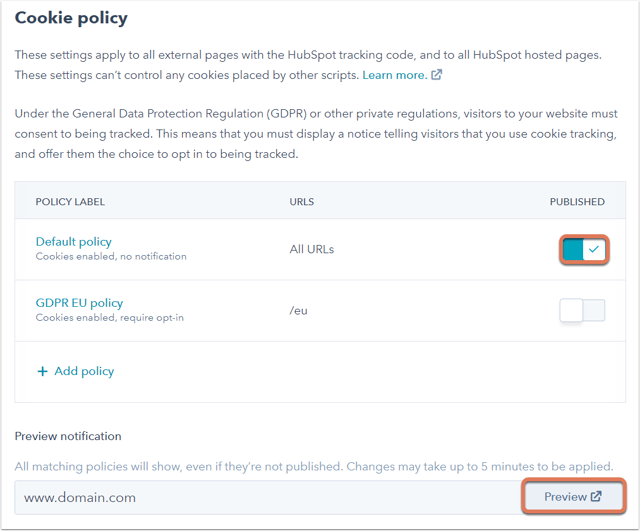 Published policies will be reflected on live site pages that meet the specified criteria.
If a visitor accepts your privacy policy, you can track them with the cookie settings you've set up in your account. If a visitor declines your privacy policy, they will not be tracked with cookies.
Please note: this cookie policy banner controls:
HubSpot cookies on HubSpot-hosted pages and externally hosted pages with the HubSpot tracking code; and

Google Analytics script only on

HubSpot-hosted pages

when the Google Analytics code is added on the Integrations tab in your HubSpot settings. This is effective as of November 1, 2019.
If your HubSpot cookie banner is set to require opt-in, these scripts will not load until the visitor accepts the HubSpot cookie banner. HubSpot is unable to control the cookies placed by other scripts on your website. Learn more about using the banner for third-party scripts.
Understand how contacts interact with the cookie policy banner
View a single contact's interaction with the cookie policy banner
To view a single contact's interaction with the cookie policy banner:
In your HubSpot account, navigate to Contacts > Contacts.
Click the name of the contact to check their interaction with the cookie policy banner.
Check the contact's timeline for a consent event. If the contact interacted with the banner, it should state if the contact accepted, declined or revoked the cookie policy banner.
Create a list of contacts based on their interaction with the cookie policy banner (Marketing Hub Starter, Professional or Enterprise only)
To create a list of contacts who've had a certain interaction with the cookie policy banner:
In your HubSpot account, navigate to Contacts > Lists.
In the upper right, click Create list.
In the upper left, enter the name of your list.
In the left pane, select Events and then, Privacy Consent.
Select the appropriate filter and value.

Approved: the contact accepted the cookie policy banner.
Declined: the contact declined the cookie policy banner.
Revoked: the contact's cookies were removed. Learn more about the Remove cookies API.

Click Save and let the list process. It will display the contacts that meet your filter criteria.