Find answers and general information quickly about the ads tool in HubSpot. If you have any specific questions about Facebook lead ads in the ads tool, check out frequently asked questions about Facebook lead ads.

What campaign types are supported in the ads tool?
Google Ads: HubSpot tracks and reports on all Google ad types, including YouTube ads. The only exception is Smart Campaigns (formerly Google Express campaigns). Smart Campaigns are not available to HubSpot through Google's API. Learn how to check if you have Smart Campaigns enabled.
Facebook Ads: HubSpot reports on all Facebook ad types, and is able to track most Facebook ads. The only exceptions are Instagram story ads and Facebook Messenger ads.
LinkedIn Ads:

HubSpot is only able to track LinkedIn single image ads. Leads who submit Lead Gen Forms on any ad type will sync to HubSpot, even if the ad type is not trackable.
For ad types that Hubspot isn't able to track, the HubSpot ads tool will report basic information, such as clicks and impressions. Contacts will not be attributed to untracked ads. Learn more about ad tracking in HubSpot.
Will my existing ads appear in the ads tool?
After you connect your Facebook Ads, Google Ads, or LinkedIn Ads account to HubSpot, your existing ads will automatically sync to HubSpot and appear on your ads dashboard, which can then be viewed and tracked in HubSpot.
How do I pause an active ad?
To pause an active ad campaign or individual ads in the ads tool:
In your HubSpot account, navigate to Marketing > Ads.
In the dashboard, click the

name

of an ad campaign.
In the upper right, click to toggle the switch off to pause the ad campaign.

Please note: pausing an active ad campaign will prevent it from collecting any data and will not cost additional fees.
In the

Ads table, click to toggle the switch off next to an ad set,

ad group, or specific ad to pause it.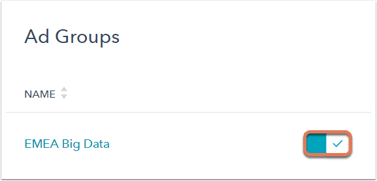 What happens if I disconnect and reconnect my account?
If you're disconnecting and reconnecting your Facebook Ads, Google Ads, or LinkedIn Ads account for troubleshooting purposes, be aware that:
Previously collected data will not be lost.
Previously created audiences will be available once you

reinstall the ad network pixel. However, if an audience is deleted from the ad network, the audience will not be available upon reconnection.
Any leads that submitted lead ads or Lead Gen Forms while the account was disconnected will retroactively sync to HubSpot. However, they will not appear in attribution reporting.