Manually create an individual contact
Follow the steps below to manually create a contact in your HubSpot contacts database.
1. Navigate to Contacts
In your HubSpot Marketing Basic, Professional, or Enterprise account, navigate to Contacts > Contacts.
In your HubSpot Sales or HubSpot Marketing Free or Starter account, navigate to Contacts.

2. Create a new contact
In the top-right corner, click Create contact.
Add your contact
Best practices
Your contact database is the nerve center of all of your inbound communication efforts; it informs and guides how you engage with your currrent contacts and all of your future prospects as well. Every tool in HubSpot communicates with contacts, storing details and context about each prospect in one central location: the contact record.
Learn more from Academy on why this is important to you as a marketer.
A dialog box will appear with several fields for you to fill out with information on your individual contact.
All that is required to create a contact in HubSpot is an email address, but this box will also show any default properties that have been set for your team as well as any user-specific selected properties that appear in the About section of a contact record. For information about setting these properties, check out this article.
Please note: only Email, First Name, and Last Name will appear in this dialog box initially. Enter a value for one of these properties, and your other default properties will appear here.
Once you fill out the required email address and any other known properties, click Create contact to add the new record to your contacts database. You'll be able to add more information to the record at any time by clicking View all properties within the About section.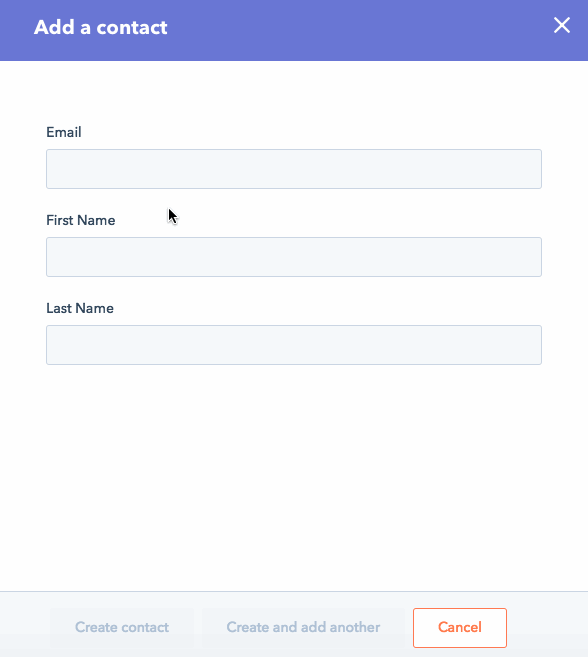 View your contact
You've successfully created a new contact record. From the contacts dashboard, you can click on a contact's name to view the individual contact record.
Import a list of contacts
Importing your existing contacts will not only provide your marketing team with a database of all of your contacts, but also equip your sales team with unique lead intelligence, as well as help you automate the process of driving contacts further along the sales cycle. This action will result in a faster ROI from HubSpot than if you were to delay importing your contacts.
You will be able to choose what lifecycle stage you want these contacts to have when you import them. This will allow you to further segment your leads later on and have all your contacts in one place for everyone at your company.
Please note: the file you are importing must be in the CSV file format, and it must contain header rows to describe the property you are importing data into (First Name, Last Name, Email, etc.). To avoid contact duplication, be sure to include Email as one of the column headers.

To avoid issues while importing CSV files into HubSpot, please ensure that your CSV file is saved in Unicode (UTF-8) encoding.
There is a limit of 250,000 contacts per import.
1. Navigate to Contacts
In your HubSpot Marketing Basic, Professional, or Enterprise account, navigate to Contacts > Contacts.
In your HubSpot Sales or Marketing Free or Starter account, navigate to Contacts.

2. Import
Click Import in the upper right-hand corner.
3. Import contacts
Now you're in the imports dashboard. From here, click Start a new import.
4. Choose import type
You'll be prompted to choose an import type:
A .csv file: this allows you to upload a list of existing contacts in a CSV spreadsheet.
Salesforce records: this allows you to import data directly from your Salesforce account.
An opt-out list: this allows you to upload a CSV file of contacts who are disqualified from receiving email from you because they have opted out.
We're going to walk through how to import a spreadsheet of your contacts, so choose A .csv file here. On the next screen, choose Contacts.
5. Choose your CSV file
Click Select a file to upload the CSV file you wish to import. Alternatively, you can drag a file into the dotted box to upload your file. You'll want to set up your CSV file to include columns for each of the properties you'd like to import. During the import process, you'll map these columns to existing properties in the CRM or create new ones. For a sample contacts CSV file, click here.
Once the file is selected, click Upload.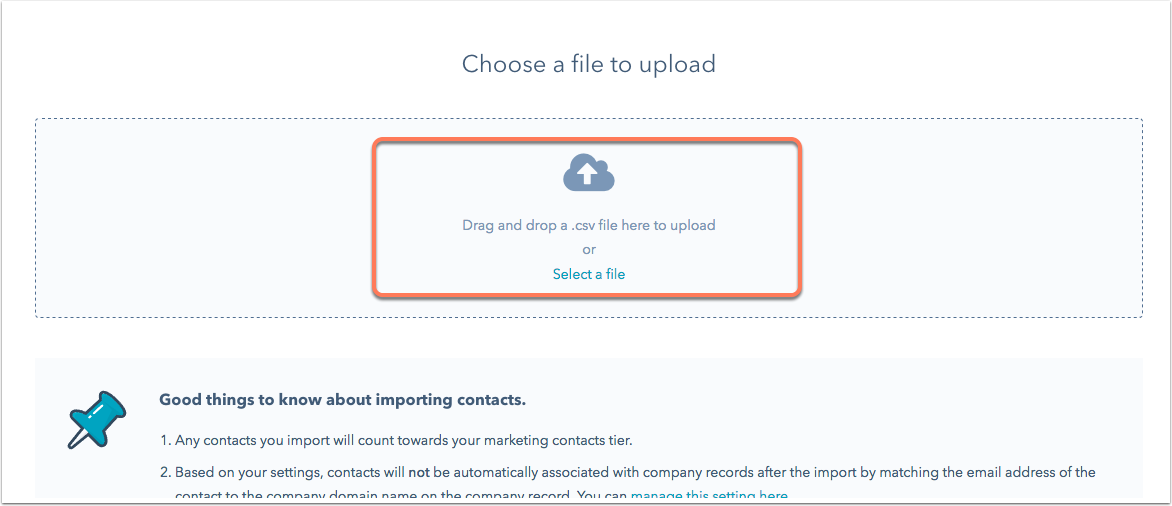 6. Basic or advanced import
On the next screen, you can set the details for your import. By default, the Import name field will be populated with the name of your CSV file, but you can customize this if you'd like.
From the Lifecycle stage for contacts in this import dropdown menu, select a lifecycle stage for your contacts. If you select Subscriber, then all contacts will be imported as subscribers unless they already exist in your contacts database with a lifecycle stage further down the funnel. For example, if you import a list of contacts and select Subscriber for the lifecycle stage, and some of those contacts already exist as Customers in your HubSpot contacts databse, their lifecycle stage won't change.
You can also choose to import your contacts without email addresses by checking the box beside Import contacts without email addresses. However, please keep in mind that HubSpot de-duplicates contacts based on email, and this can lead to duplicate records in the future.
Click on Advanced settings to see more options:
Also add contacts to this list (optional) - From this dropdown menu, choose an existing static list. The contacts you're importing will be added to that existing list.
Default format for date properties - For any date-type properties you're importing, choose the format of the date you are importing so your data is correctly stored in HubSpot.
Once you've set up your import details, click Next, map your properties.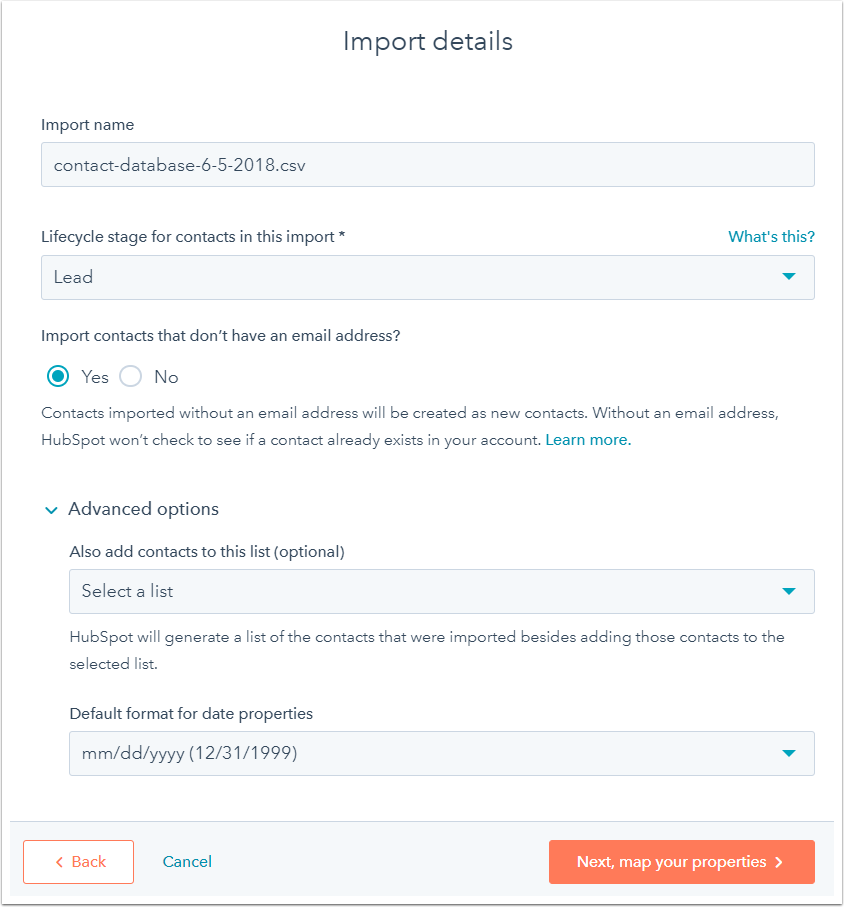 7. Map your properties
HubSpot will automatically match the columns in your CSV file to contact properties that currently exist in the CRM. You can choose not to import a column by unchecking the corresponding box to the left. You can also change which property the column is mapped to by selecting a different HubSpot property from the dropdown menu.
If any columns do not match an existing property, they will appear in the Columns without matches section. Click on the dropdown menu and choose an existing property or click Create new property to set up a new property to which this column will be mapped.
Once you've mapped the columns of your spreadsheet to properties in HubSpot, click Next, confirm extra options.
8. Confirm your list validity
The final step in importing a list is to confirm that your list is valid to respect the privacy of the contacts and to make sure you're not importing a list of people that don't have a current relationship with your business. Simply select the appropriate answers, type your initials in the box, and click
Finish import
.
Please note: importing purchased lists is against our Acceptable Use Policy.
Any existing contacts will be de-duplicated by email address, while all other included fields will overwrite existing data. If you do not import to a field, the existing data for that contact will not be touched.
You'll then be redirected to the Import screen where you can see the status of your import. You'll also receive an email when your list has finished importing into HubSpot. Repeat this process for as many different CSV files as needed until you're happy with the contacts in your HubSpot contacts database.