Create a knowledge base of articles for your customers.
Create and edit knowledge base articles
In your HubSpot account, navigate to Service > Knowledge Base.
In the upper right, click Create article.
Add a title and subtitle to the article.
Write the body of your article. Use the toolbar at the top of the editor to edit the text style, format your content, or add links, images and emojis.

Click the

Insert

drop down menu, then click to add the below to your article:
Edit knowledge base article settings
Click the Settings tab.
Edit your article URL if needed. To make changes to your knowledge base domain, learn more about customizing your knowledge base.
Click the Category dropdown menu and select an existing category or click Create new to create a new one. This will determine where your article appears when visitors are browsing your knowledge base.
To add a subcategory, click the Subcategory dropdown menu to select an existing subcategory or click Create new to create a new one.

Learn more about

organizing your knowledge base categories

.

To add an existing tag, click the drop down and select a tag. Or, type the name of your new tag and click + Add tag.
By default, your article will be set to Public access, which means the article is visible to everyone. You can select

Private - registration required

t

o

give a specific list of contacts access to this article. The contacts will need to register and sign in with their own email and password to access this article.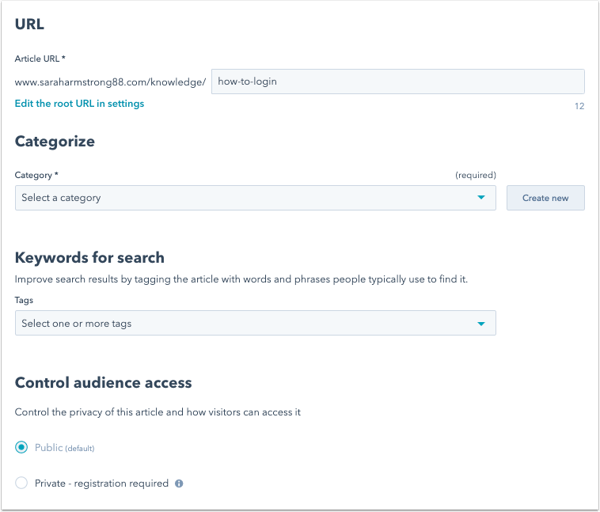 In the upper right, click Publish

to take your article live.