You can customize the domain your knowledge base is hosted on, as well as the appearance of your knowledge base.
In your HubSpot account, click the settings icon

settings

in the main navigation bar.
In the left sidebar menu, navigate to Service > Knowledge Base.
On the General settings tab, you can customize the following:

Knowledge base domain: by default, your knowledge base will be connected to a system domain. To replace the system domain with your own, click Manage domain to open your domain manager:


In the lower-right, click Advanced options, then click to toggle the Display system domains switch on to include your system domains.

In the Primary domains section, locate the row for your Knowledge base, then click the Edit dropdown menu and click Replace primary domain.

Knowledge Base root URL:

to add a subdirectory to your subdomain for your knowledge base (e.g., info.mywebsite.com

/knowledgebase

), enter it in the

Knowledge Base root URL field.
Language:

your

account settings

will carry over by default, but you can select a custom language for your knowledge base using the

dropdown menu

.
Click the Customize tab to edit the appearance of your knowledge base:
Navigation bar: customize the way your knowledge base appears in a web browser:

Favicon: the small image that appears in the browser tab.
Company logo: your knowledge base logo image.
Name your knowledge base: the public facing name of your knowledge base

e.g., Help Center or Knowledge Base.

Company website URL:

your company website URL, which will link to your logo image.

Text link to your company website: this text will appear in the upper-right corner of your knowledge base and link to your Company website URL.

Header:

the content that appears in the top section of your knowledge base website:




Welcome message:

displays above the search bar on your knowledge base home page.

Header color:

select a

color bubble

or use the

color picker

to enter or select a custom color.

This color will fill the space behind the search bar.




Header background image: in place of a Header color, you can upload your own background image to fill the space behind the search bar. Click Browse images to choose an image from your file manager, or click Upload to select a new image from your computer.

Links: t

his color will be used for any text links throughout your knowledge base.

On the left side of your Customize settings, you'll see a live preview of how your knowledge base will appear on different device types. Click the tabs to adjust the preview and see how your knowledge base will appear on different device types. This preview will update with all your changes in real time.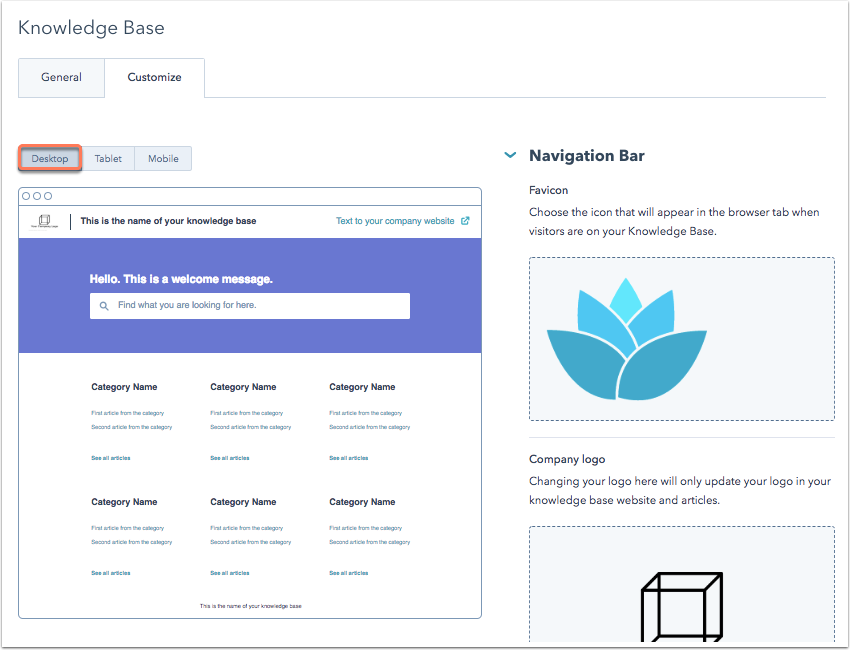 At the end of every article, visitors are asked to give feedback on the article by selecting Yes or No. Each submission is added to your article health data in your knowledge base reports.
When a visitor leaves feedback, they are asked for their email address.
To comply with any data protection laws and let visitors know what you do with their data, click t

he

Feedback

tab.

Click the

Notice and Consent / Legitimate Interest (GDPR) dropdown menu and select an option.