Non-HubSpot forms collect submissions on your website's existing forms, allowing you to consolidate all your leads into your HubSpot contact database. Non-HubSpot forms will work on any external web page that has the HubSpot tracking code installed.
Enable or disable non-HubSpot forms
Non-HubSpot forms can be used in a HubSpot

CRM

account with HubSpot's free marketing tools.
In your HubSpot account, click the settings icon

settings

in the main navigation bar.
In the left sidebar menu, navigate to Marketing

>

Forms

.

Click the Non-HubSpot Forms tab.
Click to toggle the Collect data from website forms switch on/off to enable/disable non-HubSpot forms.
Once enabled, the tool will automatically start collecting submissions on your website as soon as submissions occur.
The collected forms tool is able to identify your website's external forms based on the <form> tag in the HTML code. As soon as a visitor submits a form, HubSpot stores the submission information in a cookie li_formsub on the visitor's browser. The form submission data stored in this cookie is then pushed back into HubSpot to either create a new contact or update any existing contact record with the same email address.
HubSpot will try to map form fields to existing contact properties in HubSpot using logic in the following order:
field name with contact property internal name
field label with contact property label
field label with contact property internal name
field name with contact property label
You can create form fields or labels to match HubSpot default properties or create a custom contact property to match the name or label of your form field.
If a corresponding contact property can't be detected for a form field, the data submitted won't be stored on the contact record. The details submitted for that form field will still be available in the form submission data.
Please note:
An email address is required to create a contact, so

your collected form

must

have an

Email

field in order for HubSpot to record form submissions.

All data submitted to non-HubSpot form fields will only match to

single-line text

field type properties in HubSpot. Non-HubSpot form fields cannot match with other field types.
When disabled, submissions will no longer be collected on your non-HubSpot forms; however, all your pop-up forms and HubSpot forms (Marketing Hub only) will continue to generate submissions as they are separate tools.
Manage your non-HubSpot forms
In your HubSpot account, navigate to Marketing > Lead Capture > Forms.
In the upper left, click the Form type

dropdown

menu and select Non-HubSpot.

Hover over your non-HubSpot form and click the Actions dropdown menu, then select View Information to view the following details:

URL of the most recent page where a submission was collected for this form
Date a submission was first collected on this form
Click Advanced information

to see the

selector for this form. The tool uniquely identifies each form based on the CSS selector of the form itself. By default, the form identifiers will be its CSS selector, but you can rename the form and find the original selector here.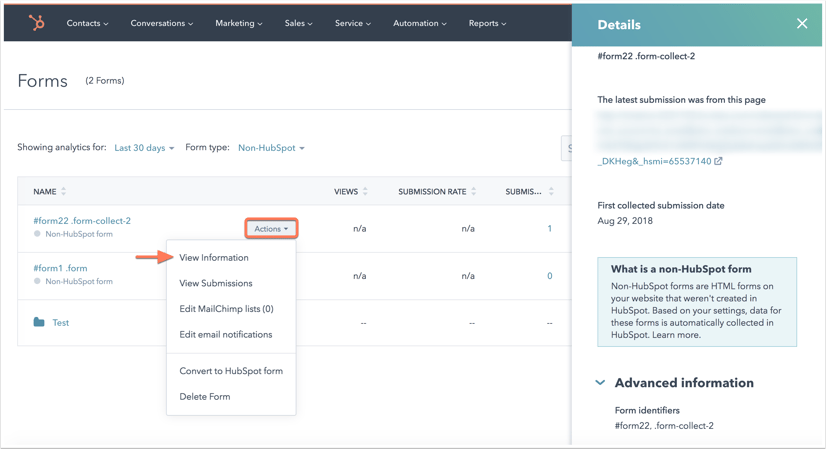 Forms that work with the non-HubSpot forms tool
Provided your form is a static HTML form, wrapped in a HTML <form> tag and not contained inside an <iframe>, HubSpot should be able to capture form submissions. Some common reasons why the tool would not be able to capture submissions on forms are:
Form is not enclosed in

<form>

tags
Form is contained inside an

<iframe>
Form has JavaScript bound to form submit event or submit button click event. This is how the tool captures submissions and any other events, and can prevent HubSpot from knowing when submissions occur.
Form was introduced after the page completed loading. The tool scans the page as soon as it loads and listens to submissions on forms that were present at that point.
Form contains a sensitive field, such as credit card number.
Form contains hidden fields. The tool does not collect information from any hidden fields.
Supported form builders/plugins
While HubSpot can collect submissions on most forms, there are some form builders or plugins which cannot be used due to the reasons above. The table below shows form builders/plugins that are currently supported and unsupported.
Supported
Unsupported

Contact Form 7
JetPack
Fast Secure Contact Form
Contact Form
Gravity Forms
Formidable
Ninja Forms (< v3.0)
Contact Form Clean and Simple
Quform
MailChimp embeddable forms
Native WordPress comment forms
Most custom forms

Google Forms
Wufoo
WooCommerce
Easy Contact Forms
Disqus comments
Jetpack comment forms
JotForm
SumoMe
Ninja Popups
Ninja Forms (v3.0+)
Forms contained in an iFrame
Optinmonster
FormCraft
cVita
Typeform
Caldera
Form Maker
Convert non-HubSpot forms into HubSpot forms
If you want to start using HubSpot's native forms tool, you can quickly and easily convert a non-HubSpot form into a HubSpot form with one click.
In your HubSpot account, navigate to Marketing > Lead Capture > Forms.
I

n the upper left, click the

Form type

dropdown

menu and select

Non-HubSpot

.

Hover over the non-HubSpot form you want to convert and click the Actions

dropdown menu, then select

Convert to HubSpot form.
In the dialog box, click Copy to HubSpot

to create a HubSpot form with all the same form fields.
The new HubSpot form can be identified by the word Converted in the title of your original form. The original non-HubSpot form will remain in your portal after making a copy.