Use non-HubSpot forms
Last updated: February 23, 2022
Non-HubSpot forms are HTML forms on your external site that weren't created in HubSpot. When you install the HubSpot tracking code on your external page or use the HubSpot WordPress plugin, submissions to non-HubSpot forms will be collected in HubSpot.
Please note:
only 10,000 non-HubSpot forms can be created in an account. When there are more than 10,000 non-Hubspot forms, Hubspot will reject the submissions.
Before you get started
When using non-HubSpot forms, do take note of the following:
Non-HubSpot form submissions are collected whenever a visitor clicks the submit button. If there is validation on the external form, this can lead to multiple partial submissions. For example, if a visitor attempts submits the form without filling a required field, they would need to enter the required information and submit again. In HubSpot, both submissions would be collected, one partial and one complete.
The non-HubSpot forms tool is dependent on the tracking code. HubSpot can only collect form submissions if the tracking code loads successfully. For example, if there are JavaScript conflicts on the page or a visitor's browser security extension blocking scripts, the form submission will not be collected.
When using non-HubSpot forms, all submissions associated with the same cookie will be added to the same contact record. For example, if a visitor submits a specific form multiple times with the same device and browser, all submissions will be attributed to a single contact, even if each submission uses a different email address.
Because these behaviors are due to external factors, HubSpot cannot prevent them. Alternatively, you can consider working with a developer to connect your non-HubSpot forms directly using HubSpot's Submit data to a form API or an existing form integration.
For form submissions to be collected in HubSpot, your form must:
be a static HTML form.

be wrapped in HTML <form> tags.

not

be in an <iframe>.

have an email input field.
If your form isn't capturing submissions, learn more about common issues with non-HubSpot forms.
Enable or disable non-HubSpot forms
To enable or disable the collection of information from non-HubSpot forms on your pages:

In your HubSpot account, click the

settings

settings icon in the main navigation bar.
In the left sidebar menu, navigate to Marketing >

Forms

.

Click the Non-HubSpot Forms tab.
Click to toggle the Collect data from website forms switch on/off to enable/disable non-HubSpot forms.


If you would like to send email notifications on non-HubSpot form submissions, enter the email address(es) of the notifications recipients in the

Send email notifications for collected forms submissions to

field.

If you have access to marketing contacts, click to toggle the Set new contacts created through non-HubSpot forms as marketing contacts switch on/off to set the default marketing status of these created contacts as marketing/non-marketing.
Once enabled, the tool will automatically start collecting submissions on your website as soon as submissions occur. The tool is able to identify your website's external forms based on the <form> tag in the HTML code. The form submission data is stored in localStorage and then pushed back into HubSpot to either create a new contact or update any existing contact record with the same email address.
Please note: each time the submit button is clicked on your non-HubSpot form it will trigger a form submission in HubSpot. This includes instances where a user has not filled out all required fields and clicks the submit button, HubSpot will record this action as a form submission.
Mapping non-HubSpot form fields and HubSpot properties
All data submitted to non-HubSpot form fields will only match to single-line text field type properties in HubSpot. Non-HubSpot form fields cannot match with other field types.
Non-HubSpot form fields cannot be manually mapped. HubSpot will automatically try to map form fields to existing contact properties in HubSpot using logic in the following order:
field name with contact property internal name
field label with contact property name
field label with contact property internal name
field name with contact property name
You can create form fields or labels to match HubSpot default properties or create a custom contact property to match the name or label of your form field.
If a corresponding contact property cannot be detected for a form field, the data submitted won't be stored on the contact record. The details submitted for that form field will still be available in the form submission data.
Manage your non-HubSpot forms
In your HubSpot account, navigate to Marketing > Lead Capture > Forms.
In the upper left, click the Form type dropdown menu and select Non-HubSpot.

Hover over a non-HubSpot form and click the Actions dropdown menu to:

View Information:

view the URL of the most recent page where a submission

was collected

for this form and the date of the first submission. Click

Advanced information

to show the

selector for this form

.

Edit MailChimp lists:

edit the

MailChimp lists

that you want to send submissions to.

Move:

move the form into a folder.

Delete Form:

remove the form from the forms dashboard. As non-HubSpot forms are not hosted on HubSpot, this will not delete the actual, live form on your external site.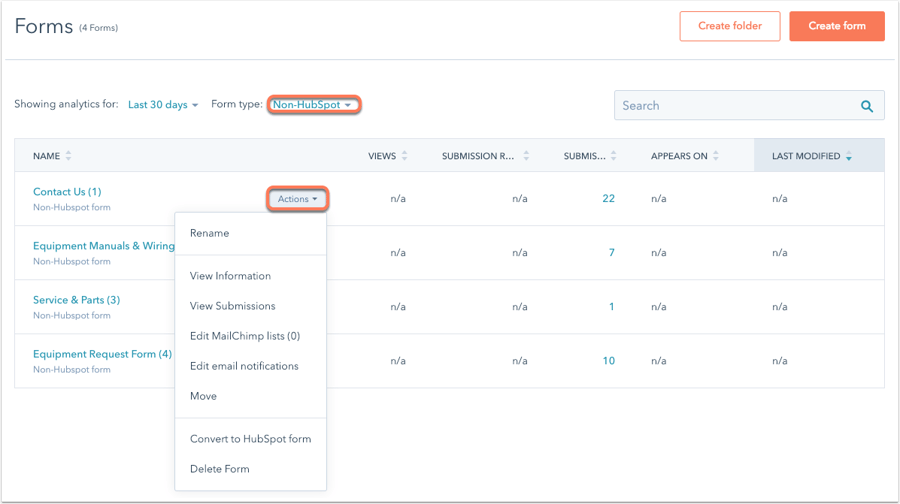 Thank you for your feedback, it means a lot to us.