HubSpot's Sources Report helps you measure the success of your marketing campaigns over time and find areas for further optimization. It shows you where your traffic is coming from, as well as the original source of your leads and customers. As you increase your social media presence on social sites like Facebook, LinkedIn, Twitter, etc, you will be able to see measure your impact in the Sources Report.
Learn how to track which social media channels are generating the most traffic.
1. Navigate to the Sources Report
2. Select a Date Range
Above the Sources graph, select a time range to analyze. Choose "This month to date" to see your performance for the current month.
3. Filter by Social Media
Below the graph, you will see a chart displaying the different sources that your traffic is coming from. Click on Social Media.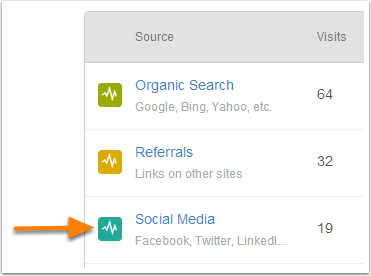 4. Compare performance of all social media channels
View the different social media sites that are bringing traffic to your site.
5. Drill down into your marketing campaigns
By selecting a specific social site, you can see how your campaigns are performing. Select Facebook for this example. You can then see the breakdown of all of your campaigns and how they are performing individually. This gives you the ability to track which of the campaigns on social media are driving the best visitors, leads, and customers to your site.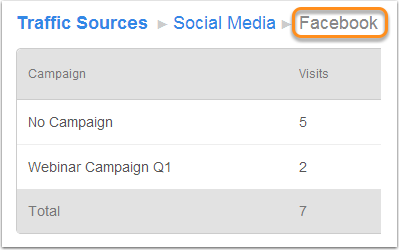 6. Create a plan based on observations
If you see that a particular social media site is sending you quality traffic and leads, you should focus your attention on participating more on that site.
Look at individual campaigns and see what you are doing right.
Ask yourself what it is about that site or your actions on it that could be responsible for your success there.
If you can, replicate what you are doing there on other social media sites!
7. Make sure that visits from social media are being bucketed correctly
When posting content to social media, learn more about the correct setup to ensure visits are bucketed correctly in the Sources Report.