With tickets, you can organize all of your customer inquiries in one place and track trends over time. You can create individual tickets from your dashboard, a contact record, or your conversations inbox. You can also automate the process using workflows and the support form.
After creating tickets, learn how you can organize, view, and report on your tickets.
Create a new ticket from the tickets dashboard
In your HubSpot account, navigate to Service > Tickets.

In the upper right, c

lick Create ticket.
In the right pane, enter your ticket details. If you want to customize which properties appear here, click customize the properties

at the bottom. The following fields are required by default:




Ticket name - provide a description for this ticket.

Pipeline - assign this ticket to a

specific ticket pipeline

you've created.
Ticket status - choose a specific

ticket stage

from the pipeline you've selected.
Create a ticket from the contact record
You can associate an existing ticket with a specific contact, or create a new ticket directly from the contact record or the contacts dashboard.
In your HubSpot account, navigate to Contacts > Contacts.
Hover over a specific contact and click Preview to see more details in the right pane, or click Edit to open the full contact details. You can either associate an existing ticket or create a new ticket.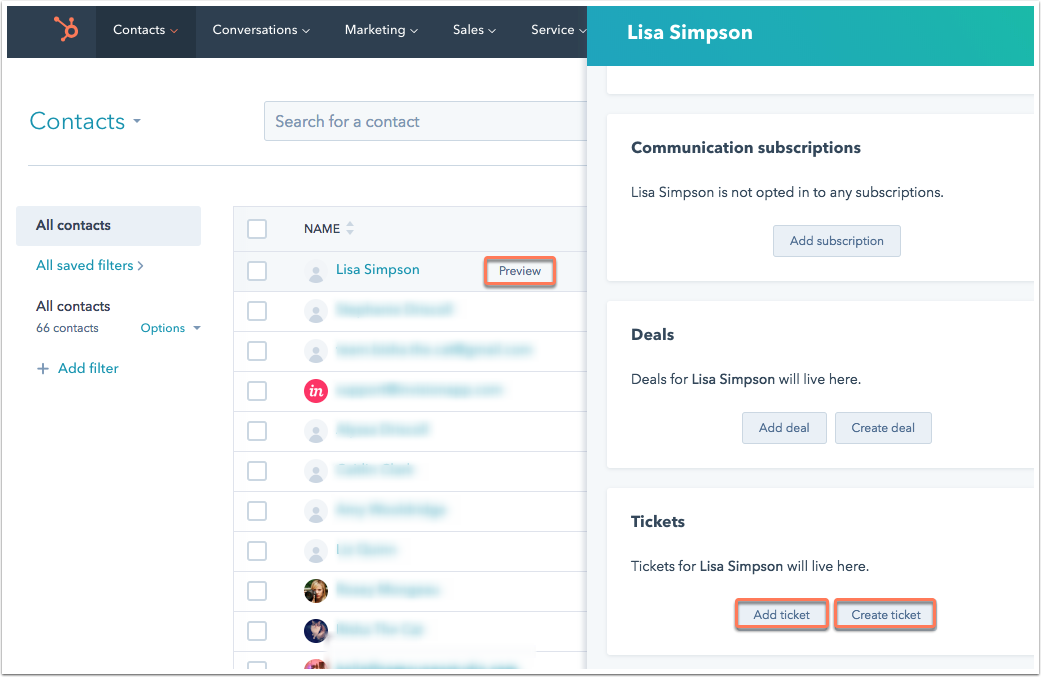 To associate an existing ticket with this contact:

Click

Add ticket to search for an existing support ticket to associate with this contact.
Use the search bar to look up the existing ticket name, then click the checkbox on the left of your search results to associate that ticket with this contact. If you cannot find the ticket you're looking for, you can click Create a ticket to create a new ticket.
Click Done to save your changes.
To create a new ticket:

Click Create ticket.

Enter the ticket details into the sidebar.

Click Create to create a new ticket and associate it with this contact.
Create a ticket from your conversations inbox
When
connecting your team inbox
, you can create a rule to automatically create a new ticket each time an incoming email is received.
You can also
create a new ticket
directly from a contact record in the right sidebar of your conversations inbox.
Create tickets using the support form in your tickets settings
You can use your default ticket form to allow visitors to your website to submit tickets directly to your team. To set up your form and add it to your website:
In your HubSpot account, click the settings icon

settings

in the main navigation bar.

In the left sidebar menu, navigate to Service > Support form.
Click Create form or, if you've set up your support form in the past, click Edit form.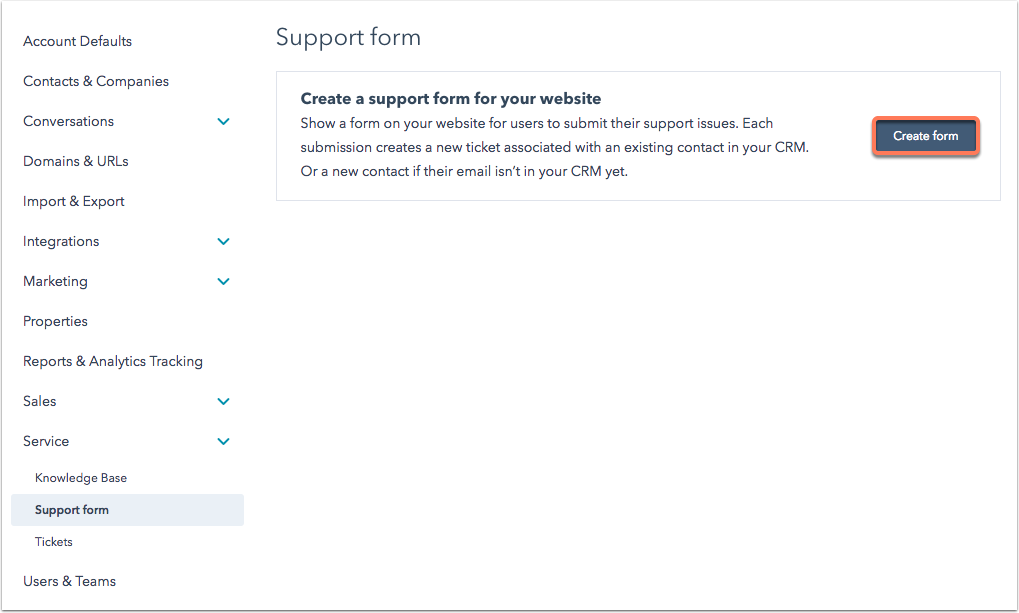 You'll be taken to the forms editor for your default ticket form, where you can make changes to the fields as needed. By default, the following fields will be included in your form:

First name

Last name

Email

Issue (Ticket Name)

Details (Ticket Description)

Ticket Pipeline (hidden field; appears as hs_pipeline)

Ticket status (hidden field; appears as hs_pipeline_stage)

Click Update form to take your changes live.
You can now add your support form to your website for visitors to create tickets:
To embed the form an a non-HubSpot page, click Share in the form editor. On the Embed code tab, click Copy. Paste this code in the HTML of your external page(s)

where you want the form to appear

.
To share a direct link to the form, click Share in the form editor. Click the Share link tab, then click Copy to copy the direct link to your form and share it.
To add the form to a HubSpot landing page, navigate to your landing page (Marketing > Website > Landing Pages). In the editor for the page, click the form module, then click the Form dropdown menu and select Default ticket form. Click Publish or Update to take your changes live.
Create tickets with a workflow
Set up a workflow to create tickets automatically based on specific enrollment triggers. Learn how to add actions in your workflow and use the Create a ticket action.