Tickets can organize all of your customer inquiries in one place and help you track trends over time. You can create an individual ticket from your tickets dashboard, your Inbox, or using a workflow.
Read on to learn how to create tickets and manage them from your dashboard.
Create a new ticket from the dashboard
In your HubSpot Service Hub Professional account, navigate to Service > Tickets.
In the upper-right corner of the screen, click Create ticket.
Enter the ticket details in the right sidebar. You can click customize the properties to adjust the ticket properties that appear here. The following fields are required:

Ticket name - provide a description for this ticket.

Pipeline - assign this ticket to a

specific ticket pipeline

you've created.
Ticket status - choose a specific

ticket stage

from the pipeline you've selected.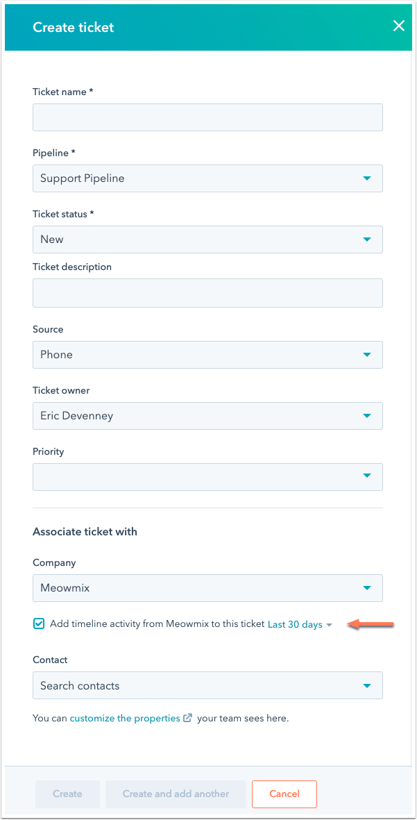 Create tickets using the support form in your Ticket settings
In your HubSpot

Service Hub Professional

account, click the settings icon

settings,

then in the left sidebar click Services > Tickets.

Switch the toggle on

success

to automatically enable a support form on your website.

Each submission on this form will create a new ticket associated with an existing contact record or a new contact if their email is unknown.

To add this support form

to an external website,

Copy the embed code or share it with your developer to add it to your site.
Create tickets through conversations
When connecting your team inbox, you can create a rule to automatically create a new ticket each time an incoming email is received.
You can also create a new ticket directly from a contact record in the right sidebar of your conversations inbox.
Create tickets with a workflow

Click Change re-enrollment options to adjust your settings so contacts can be enrolled in this workflow multiple times, which will be helpful if they need to open up an additional ticket. Then click Done.
After you've finished selecting all of your enrollment triggers and settings, click Save.
Click the plus (+) icon to add your workflow actions.
In the right sidebar, scroll down to the Service section and click Create a ticket. Here you can add details to the ticket that will be created automatically for any contacts enrolled.
You can click Set another ticket property to include additional property values on this ticket. Use the dropdown to select any additional ticket properties you wish to add, then click Done.

You can also copy existing contact property values to one of your ticket properties by clicking Copy a contact property to a ticket property.
Note that only property values of the same type can be copied over. For example, only a date-based contact property can be copied over into the First agent response date ticket property.
If any required information is missing from your ticket, you'll see a red alert in the upper-left corner of your workflow action. To resolve any missing details, click the Create a ticket

action to finish making your edits in the right sidebar.

Review the rest of your workflow settings to determine if you want to make any adjustments.
Toggle the switch in the upper-right corner to turn your workflow ON. This will prompt a review dialogue where you can double check your workflow enrollment triggers and settings.
Click Turn workflow on to enable your workflow.
Manage tickets from the dashboard
Your tickets dashboard lets you manage all your tickets in one place. You can switch between two default dashboard views using the tabs in the top left:
The Table view lets you see a detailed list of your tickets and ticket properties. You can customize which properties appear in this table view: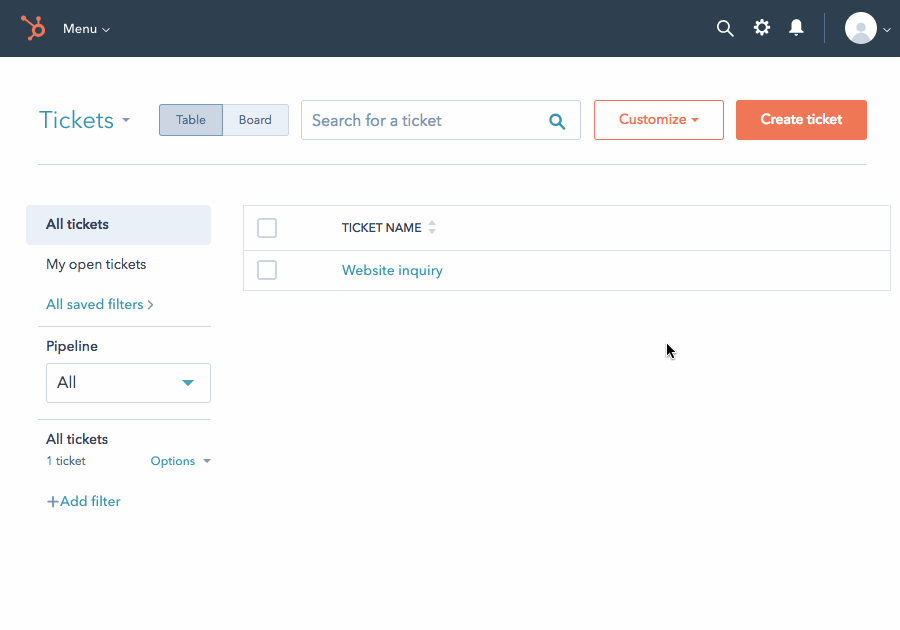 The Board view shows you all your tickets by pipeline status.

You can click and drag tickets to move them into a new pipeline stage.
You can also adjust your dashboard views using the left sidebar:

Use the Pipeline dropdown in the left sidebar to select a different ticket pipeline.

Click

+ Add filter

to

create saved filters

of your tickets base on specific ticket property values.

Click All saved filters

to select one of your existing saved views.
Hover over a ticket and click

Preview

to open your ticket details in the right sidebar. You can see your ticket properties at the top and any associated contacts, companies, deals or attachments here as well.
Click View profile to open this ticket record. You can also click on the name of a specific ticket in the dashboard to open up its details.
View ticket details
On the ticket record you'll see the following details:
The ticket name, how long it's been open, and its current status in the pipeline. You can use

the Status dropdown to move the ticket into a different status in your pipeline.
The Actions button gives you options to delete ticket, or adjust your notifications.
The About this ticket section contains all your ticket properties and property history. To adjust the properties that appear here:

Click View all properties, then click Set default properties.
Use the checkboxes to customize the properties you want to see on the record.
Once you've made your selections click Save, then click Back to ticket record in the upper-left.
On the right-hand side is an interaction box where you can create notes, send CRM emails, schedule calls, tasks, meetings, or log another activity.
Any information related to these engagements will appear below on the timeline. You can use the tabs across the timeline to filter your timeline view for specific types of engagements.

Finally, you can also associate your ticket with other records in your CRM to keep relevant details within reach:

Click

Add a company

or Add a contact to associate this ticket with an existing record.
Click Add deal to associate this ticket with an existing deal or click

Create deal

to create a new deal to associate with this ticket.
Report on your tickets
You can view your ticket performance at a glance in your service dashboard, as well as add other pre-built ticket reports to the dashboard.