Troubleshoot HubSpot forms
Last updated: April 7, 2022
HubSpot forms allow you to gather important information about your visitors and contacts in HubSpot.
Review possible reasons below for issues with your HubSpot forms.
Form behavior
Troubleshooting HubSpot form issues
If you find that there are form issues, it could be the HubSpot form itself, or the page that the form is embedded on. To troubleshoot the issue, you can test your HubSpot form:
If the submission is successful, the issue is likely related to the page where it was embedded on. In this case, check with your developer on the possible elements on the page that could've affected the submissions (e.g., scripts, stylesheets).
If the submission was also affected by the same error, get further help from HubSpot.
A field is not appearing on a live form
If some fields are not being displayed on your form when you add it to a page, it is likely that the form has progressive fields and HubSpot remembers you from previous interactions or testing. Progressive fields are hidden if the visitor has previously filled in the field or if the contact already has a value for the property.
Smart content is not appearing on my thank you page
Smart content should not be used on a thank you page. When a visitor submits a form and is redirected to a thank you page, there isn't enough time for HubSpot to determine if the contact meets the smart content rules on the thank you page.
'We had some trouble loading this form. Click here to continue' error
HubSpot forms are built with JavaScript to add features like field validation, dependent fields, and dynamic error messages. However, this means that resource-blocking browser extensions like Ghostery and Privacy Badger may block your forms from loading and displaying if they are enabled.
The Click here to continue text is hyperlinked to https://share.hsforms.com/, a protected domain controlled by HubSpot. When a visitor clicks the link, they'll be brought to a standalone form page where they can submit the form. The link includes the full context of the original forms embed code in a query string, as well as the original page information like its title and URL. As a result, the form on this standalone page will behave exactly like the original form, and a form submission on this standalone page will pass the same analytics information as a submission on your original form.
Forms and contact activity
Contact did not record a page view when submitting form
If a contact has submitted a form but their Number of page views property value is '0', it's likely because cookies were blocked when the contact submitted the form. This could be due to several reasons:
The contact has chosen to block cookies.
Cookie tracking is disabled

in the form options.
If you're using the HubSpot

Forms API, the form is not set to pass a cookie.
The HubSpot tracking code must also be installed on your site and firing correctly in order to track page views.
Contact missing a value for IP Country, IP State or IP City
HubSpot uses multiple third-party databases to try to match a visitor's IP address to their geographic location. There are two reasons why a contact's IP Country, IP State/Region, or IP City may be blank:
Contacts must submit a form with cookie tracking enabled or interact with (open or click) a tracked HubSpot email to have an IP address associated with them.
In some instances, HubSpot may not find a match for the geolocation properties against its databases. IP address location data can be inaccurate or spotty in certain geographical locations, so there may be instances where HubSpot cannot find data for all three IP properties.
Edit and customize forms
Property is not available as a field in the form editor
If a property is not available as a form field, it may be because it is not set up to be shown in forms.
In your HubSpot account, click the

settings

settings icon in the main navigation bar.
In the left sidebar menu, navigate to Properties.
Click the name of the property.
Select the Use in forms, and bots

checkbox.

If your property has multiple options, ensure that the Show in forms switch is toggled on for each option you want to be able to use in your forms.
In the bottom left, click Save.
Form submissions
Higher number of form submissions than contacts
Form submissions are recorded any time the Submit button on a form is clicked. If a form is submitted multiple times with the same email address, only one contact will be created, but each form submission will still be recorded. If a contact is deleted from HubSpot, their form submission will still appear, but they will no longer show up in a list filtered by the form's submissions.
For a form submission to create a contact record in HubSpot, the default Email field must be used on your form. If not, you must allow form submissions without email addresses to create contacts.
If the form submission uses an email address already associated with a contact record, or if the submission is done in a browser with tracking cookies tied to an existing contact record, it will update the existing contact record and not create a new one. Learn more about how HubSpot deduplicates contacts and how to recreate contacts overwritten by form submissions.
Form submission not appearing on the activity timeline of associated objects
To display a form submission in the activity timeline of an associated object:
The form must contain a form field belonging to that object type.

The form field belonging to that object type must be populated when the form is submitted.
For example, if the form contained a company property set as a form field and this field was populated when the form was submitted, the form submission will appear in the activity timeline of the associated company. To ensure that the field is always populated, you can set the form field to required.
Page visit not recorded after form submission
When a form submission does not record a page visit it's most likely because the IP address of the visitor has been excluded from your site analytics. If the visitor submits the form while on an excluded IP addresses their submission will be recorded in the form submission analytics but a page visit will not be counted. If you are a user in a HubSpot account and not on an excluded IP address your form submission and page visit will be counted.
File removed from contact's form submission?
The HubSpot forms tool is equipped with virus detection that prevents suspicious files from being uploaded in form submissions. If a visitor submits a form with a file and a virus is detected, the message [File name] removed from submission will appear in the submission details.
Additional company information displaying in my form notification
If HubSpot has additional company information in our databases, HubSpot will auto-populate this information to the bottom of the notification.
'No cookie was found for this submission' error
There may be a number of reasons why you are seeing 'No cookie was found for this submission' in your form submission:

The submission originated from an external integration via HubSpot's API and did not include a cookie.

The visitor's browser had cookies blocked.

Another contact record has the same cookie and Always create contacts for unique email is enabled.

The visitor did not accept the cookie banner.

The visitor submitted using a filtered IP address.
'No contact record' error
If you don't allow form submissions without email addresses to create contacts, there are two reasons why you may see 'No contact record' in your form submission:
The Email field is not included and/or required on your form.
The contact associated with the submission has been deleted from HubSpot.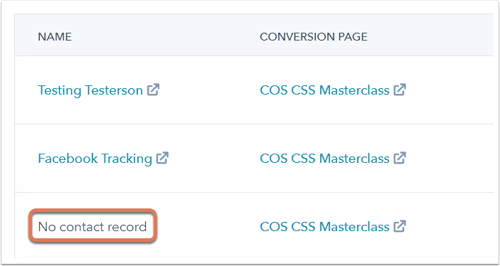 'No record' error
If you see a 'No record' conversion page in your form submission, this means HubSpot wasn't able to determine where the submission occurred. This could be due to two reasons:
If your form is embedded on an external page, the tracking code may not be installed or is not firing correctly.
If you're using the HubSpot Forms API, the pageName and pageUrl parameters may not be passed in the form submission. These parameters are required for HubSpot to record the submission page. Learn more about the required parameters for form submissions via the API.
Thank you for your feedback, it means a lot to us.