Customize your messages settings
In your HubSpot account, click the settings icon settings in the main navigation bar. Then select Sales > Messages in the left sidebar menu.
Here, you'll see the following tabs:
Targeted messages: turn your existing messages on/off, edit or delete an existing message, or click Create a message to create a new message.
Please note: you need to have admin access in order to create a new message or edit an existing message.

Edit chat availability: give visitors insight into your team's availability and when they can expect a reply.

Always: your team always appears available to chat. Use the dropdown menu to let visitors know when they can expect a reply.

If you don't wish to show visitors this information, select

Don't show a reply time.
Based on team member status: visitors can chat with your team if at least one team member is available. Use the dropdown menus to set a reply time and the away status. If no team member is available, select Show away message or Hide chat launcher.
During business hours: with business hours, set expectations with your visitors about when your team is available to chat. While an individual user can chat whenever, the business hours setting lets visitors who come to your site outside of those hours know when your team will be back online. Use the dropdown menus to specify days and time ranges. Click

+ Add hours

to add more days and time ranges. Set a reply time and decide what visitors should see when no one is available to chat.
My profile: customize the information that will appear in the chat window:

Avatar and name: hover over the avatar and click

Change photo

to select a photo for your messages chat window. To change your name, hover over the name field below your avatar and click the

pencil icon, then enter a new name.
Job title: enter your job title here. This will appear below your avatar and name in the messages chat window.
Introduction: enter a message to introduce yourself to visitors. This will show in your messages chat window after a visitor clicks your messages icon to start chatting.
Show Meetings link: toggle the

Show a link to your Meetings booking page in the Messages chat window switch on to allow visitors to book a meeting with you directly from your messages window. You can select which meetings link you'd like to use by clicking the

Select Meetings link dropdown menu, and enter the text you'd like visitors to see in the

Meetings link text

field. To learn more about the meetings tool, click here.
Notifications: choose how you'd like to be notified of messages:

Sounds: toggle the switch on to hear a sound when a visitor sends a new message to you.
Browser tab notification: toggle the switch on to see the number of new messages in the messages tab of your browser window.
Slack notification: if you're integrated with Slack, toggle the switch on to enable slack notifications or click Connect account to integrate Slack with your messages tool.
Please note: email and browser notification preferences are located in your global settings.
Appearance:

customize how your messages widget will appear to visitors:

HubSpot Branding: toggle the switch on to show HubSpot branding on your messages chat window.
Accent Color: select a

default

color

for your messages icon and window, or enter a hex value to use a custom color.
Preview: click between Open and Closed to see what your messages window will look like before and after a visitor clicks the messages widget.
Slack integration: click Connect account to integrate your messages tool with Slack. Read more about the integration here.
Code snippet: access the code snippet you need to add to the page(s) on which you wish to display a message:

If you're installing the code snippet yourself, navigate to the Install code snippet section and click Copy to copy the code snippet.

Embed the snippet immediately before the closing

body tag (</body>)

on any page you want to display the messages widget. For a walkthrough on where exactly to place this code snippet, check out

this article.
If you need someone to install the code snippet for you, enter the person's email address in the

Need someone else to install the code? field and click Send.
Please note: if you already have the HubSpot tracking code installed on your website or if your website is hosted on HubSpot, you do not need to install this code snippet separately.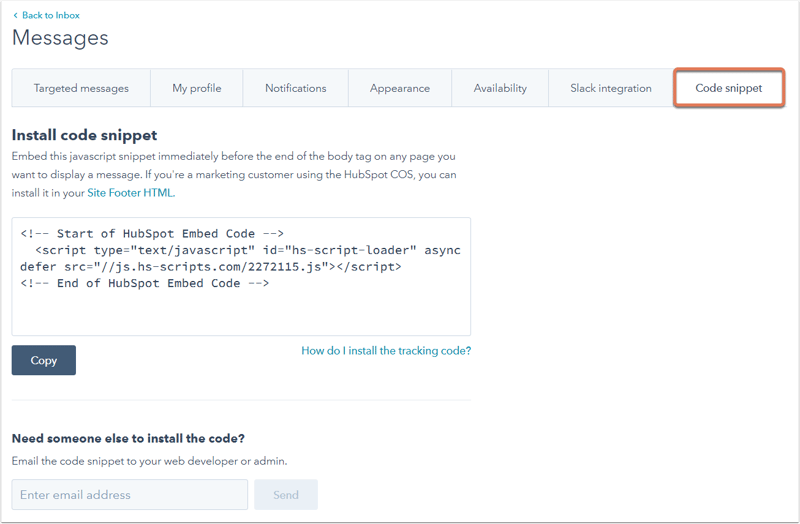 Create a message
You're now ready to create your first message.
Click the Targeted messages tab in your messages settings.
Click Create a message.
Select Chat prompt, then click Next.
You'll then be brought to a new screen which will take you through the steps of creating your message.
Audience
On the Audience screen, you have the following choices of who you want to show your chat widget to:
Everyone: a

nyone who visits your site will see your message.

Anonymous visitors: anyone who visits your site anonymously will see your message.
Tracked contacts: only tracked visitors who exist in your HubSpot contacts database will see your message.
Segmented lists: only tracked visitors who meet your smart list criteria will see your message. If you select this option, an additional dropdown menu will appear, and you can select your smart list from here. You can also select lists to exclude by clicking the But exclude these lists dropdown menu.
If a contact meets more than one of the criteria above, they will see the message customized for the most targeted criteria. For example, the message intended for contacts who are a member of a segmented list would take priority over the message for all tracked contacts.
Please note: if you select Tracked contacts or Segmented lists as your target audience, visitors who meet this criteria must have a tracking cookie associated with their contact record in order for them to see your messages widget. Read more about this here.
Click Next to customize your targeting on the next screen:
In the first dropdown menu, Website URL will appear by default.
From the second dropdown menu, select is, isn't, contains, doesn't contain, starts with, or doesn't start with and then enter the website URL you do or do not want your chat widget to appear on.
Click OR to add additional URLs.
Your targeting rules can also be based on query parameters. Query parameters are additional parameters attached to the main website URL that help specify the source of a visit:
Click the Website URL dropdown and select Query Param.
Enter the parameter name.
From the next dropdown menu select

is

,

isn't,

contains,

doesn't contain,

starts with, or doesn't start with, then enter the parameter value.
When you're done, click Next.
Message
Next, customize the information your visitors see:
Welcome Message: this message will appear for visitors right when they land on your site. You can leave this field blank if you'd like.
Send message from: choose who the message should appear to be sent from. You can choose specific users or teams or the HubSpot owner of the visitor. If more than three users are selected, three users will be displayed randomly. If you choose to send from the HubSpot owner, select a fallback user for any new or unassigned visitors who start a chat.
Email capture: indicate when to prompt the visitor to provide their email address.
Email capture message: compose a message to display when asking visitors for an email address to follow up.
Options: click the checkbox to indicate whether your welcome message should display on your selected website pages by default.
A preview of your messages window will be on the right. Click Next when you're ready to move onto the next step.

Routing
In this step, set up your message routing. You can specify particular users and/or teams who will receive messages when visitors start chatting:
Use the dropdown menu to select user(s) and team(s) for round-robin routing, where messages are routed to the first available team or team member online.
Use the next dropdown menu to select a user to receive email leads.
You also have the option to check the

box

beside

If a visitor is owned, route their incoming chats to the HubSpot owner.
Click Next to move on to the last step.
Publish
Name your message and click
Publish
when you're ready to publish it on your site page(s).
Get to know your messages dashboard
After you create your first message, you can access it for editing in your messages settings. To read current or past conversations and perform chat-related actions, navigate to your messages dashboard under Conversations > Messages.
Here, you can:
View open and closed chats: click the Status dropdown menu in the upper left-hand corner to filter between your open and closed chats. They will appear in the left sidebar menu right below the dropdown menu.
Respond to messages from visitors: type your response in the text box at the bottom of the conversation and click Send. Please note that at this time, responding to visitors cannot be done on mobile devices.
Close your current chat conversation: click Close toward the upper-right corner of your conversation to move your chat from open to closed.
Associate a visitor with a contact record or create a new contact: after capturing your visitor's email address using the Collect visitor's email address setting or by asking them for their email address, click Associate visitor in the right sidebar to associate your visitor with an existing contact record. If a contact in your HubSpot database exists with a matching email address, you can associate the visitor with the contact record. If no matching contact record exists, then you can create the visitor as a new contact.
Set yourself to away and reassign replies: click your avatar dropdown menu in the upper right-hand corner and toggle the Away mode switch on to set yourself as unavailable. Away mode is persistant, so you'll be marked as away until you toggle the Away mode switch off to set yourself as available. After setting yourself as away, you can have another user receive replies from the visitor you were chatting with by toggling the Reassign replies switch on.
Please note: contacts cannot be added to your HubSpot contacts database automatically via messages. Upon the first conversation, the visitor is still associated with an anonymous tracking cookie. However, if you have a history of chatting with a visitor and they return to your site later in the same browser, the messages tool will load your conversation history with that visitor since the system recognizes the tracking cookie. Please see this article for additional information on creating contacts using the messages tool.
Messages best practices
As you're using messages, keep these best practices in mind:
Messages perform well on products and pricing pages. Since these pages signal a user with buying intent, more conversations and meetings happen on these pages.
Prompt a visitor to ask a question. Conversations happen more often when visitors understand the widget is where they go to ask a question.
Create multiple messages. Adding different messages to different pages on your site is a great way to ensure the prompt to your visitor maximizes replies. The more specific your message is to the page your visitor is viewing, the more likely they are to ask a question.
Additional message options
If you've enabled General Data Protection Regulation (GDPR) in your account, you can customize your messages to include a step to ask your website visitors for their consent to communicate.
In your HubSpot account, click the settings icon in the main navigation bar. Then click Sales > Messages in the left sidebar menu.
Hover over the message you'd like to update with GDPR consent and click Edit.
In the left sidebar, click Options.
Switch the GDPR toggle ON.
Use the Consent to process data text field to explain why you need to store and process your customer's personal information.
Use the Consent to communicate text field below to inform customers what type of communication they're consenting to.
Please note: while these features live in HubSpot, your legal team is the best resource to give you compliance advice for your specific situation.