Bots allow you to set up automated responses when visitors reach out to you via chat on your website. Learn how to create a new bot, customize the bot template, and take a bot live on your website.
Create a bot
In your HubSpot account, navigate to Conversations > Bots.
In the upper right, click Create bot.
In the left sidebar, select the type of bot you want to create. A preview of the bot template will appear on the right side of the screen.
Please note: only Service Hub users can create support bots.
At the top, click the pencil icon

edit

to edit the name of your bot.
In the upper right, click the pencil icon

edit

and select a supported language from the dropdown menu.
Click Create bot.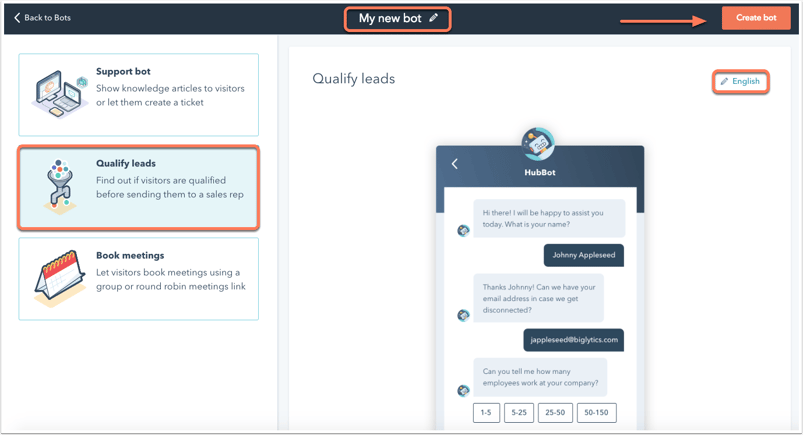 This default template is designed to help collect basic information from visitors, and either present a deflection message or connect them with an agent when necessary. Each message that your bot sends is represented on this page, as well as any routing logic to determine the flow of the conversation.
To modify your bot:
Click a

bot message or action to open the right sidebar editor and modify it in the Settings tab:

Nickname: enter a nickname for this bot message.
Message: enter the content for your first bot message. You can use personalization to pull in details from the contact record of a known visitor.
+ Add message bubble: if you want multiple message bubbles to pop up as part of this bot message, you can add another bubble here.
Collect user input: use this checkbox to indicate that the bot should wait for a response before moving onto the next bot message. Note that the first message in any bot sequence will have this option selected by default.
Save to HubSpot property: use this dropdown menu to populate the contact record with the value from the visitor's response in a specific contact property.
Skip this action if property already exists: use this checkbox to

skip this action if the visitor's contact record already has this property filled out.

Quick replies: add answers that your visitor can click to respond to your message. To add quick replies, start typing your copy and hit Enter to save each one.
Disable free text input: use this option if you want to limit visitors to selecting among your pre-set options in Quick replies.
Click the Connections tab to set up the flow of your conversation.
If you are a paid user, you can add conditional logic to your bot message by clicking Add conditions:
Please note: Sales Hub Starter, Service Hub Starter, Marketing Hub Starter, and free users cannot add custom conditions to their bot's conversation flow.
Click the first dropdown menu to set your conditions based on the user's response or a contact property value if the visitor is a known contact.
Use the next two dropdown menus to set the logic for the user's response or contact property.

Next, click the When no conditions are met, go to dropdown menu to select the message that visitors will see if they do not meet any of the conditions set.
Click Save.
Click the Settings tab to configure your bot settings:

Display name: enter the name you want your bot to use to introduce itself. Hover over your bot's avatar and click Change photo to edit the photo.
Error response: enter a

response that will be delivered to users when a request can't be completed.

Session timeout: t

he amount of time after inactivity before the chat session is reset to the beginning.

Typing delay between messages: t

he time delay between each message that is sent to end-users.

Language: the language your bot will be displayed in.
Date and number format: the date and time styling used in your bot.
Once you have customized your bot to fit your needs, you can connect it to one of your messages. In the upper right, click to toggle the switch on

success.

Select the message you want to connect this bot to, then click Connect.
In the upper right, click the name of the connected message to review the settings for the message your bot is connected to.
Supported languages and timezones
The following languages are supported by the bots tool:
English
Spanish
French
German
Japanese
The following languages are currently in beta:
Portuguese
Czech
Spanish - Mexico
Danish
Finnish
Italian
Dutch
Norwegian
Polish
Swedish
Chinese - simplified
Chinese - traditional
The language you select here will be the language your bot message and actions are displayed in. For messages sent by visitors in languages other than English, the bots tool cannot extract all date/time expressions, and cannot fully extract names, number ranges, or iterations of yes or no.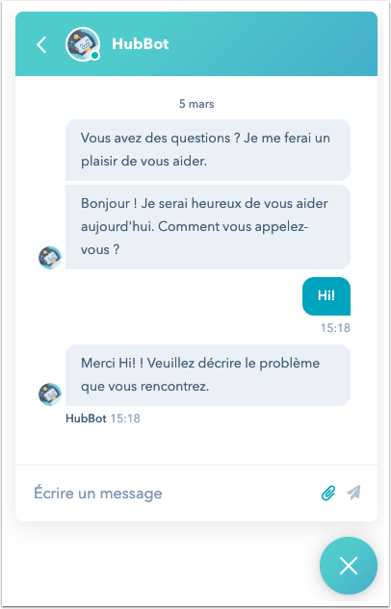 For example, when a visitor sends a message in English and uses a date/time expression like "tomorrow at three PM", the bots tool can parse this into a format like "8/03/2018 at 3:00 PM". However, if a visitor uses a date/time expression in a language other than English, the bots tool will not be able to extract and translate this date and time from the visitor's message.
Analyze your bot's performance
Use the Performance tab in your bots tool to analyze your bot's performance. Compare each bots performance side-by-side, and determine which bots have the highest conversation completion rate. You can also see a breakdown of how your visitors interact with each bot action.
In your HubSpot account, navigate to Conversations > Bots.
Click the name of the bot to analyze.
In the bots editor, click the Performance tab.
Click the Date range dropdown menu to filter your data by a specific time range.
At the top of the report, view a total count of bot conversations that were started, completed, or abandoned.
Analyze your data in the Action Completion chart visualization.

At the top of the chart visualization, click a metric to customize the data displayed in the report.
To add this report to your dashboard, click + Save to dashboard.
Click the Actions selected dropdown menu to view data for a specific bot action on the chart visualization. Select the checkbox next to an action you want to display.

Below the chart visualization, use the table to see a detailed breakdown for each bot action. View a count of how many times each action was started, how many were successfully completed, and how many failed to trigger.