As your team scales, the amount of content you create and maintain grows. You may also have confidential materials that shouldn't be shared across all your users or teams.
With HubSpot's content partitioning feature, Marketing Hub Enterprise users with Partition by content permission can assign content to members of a specific team. This keeps content dashboards streamlined, so each user only sees content assigned to them in their HubSpot account.
This setting controls what content users see in their content dashboard. To control the subdomains teams can use to publish content, Admins can set up subdomain publishing permissions.
Please note:
After this setting is enabled, users and teams will

only

see content assigned to them in their content dashboard. Any unassigned content will only be visible to users with

Admin

access.

F

or best results

, it's recommended to

create your teams

in HubSpot before assigning content to users and teams.
Assign content access to users and teams
In your HubSpot account,

navigate to your landing pages, website pages, or blog dashboard.

Select your content:

To assign one page or post, hover over the content you want to assign, then click the More dropdown menu and select Assign users & teams.

To assign multiple pages in bulk, select the checkboxes next to the

pages you want to assign, then click

Assign to teams.

In the dialog box, you can assign content to entire teams on the

Teams

tab, or click the Users

tab to assign content to individual users. If you're using hierarchical teams and assign content to a child team, the parent team will gain access automatically.
Select the checkbox next to the

team name

or

contact name

to grant them access to this content.
Click Save. Note that these team assignments won't be enforced until an Admin enables team assignments for Pages and/or Blog in your Users & Teams

settings.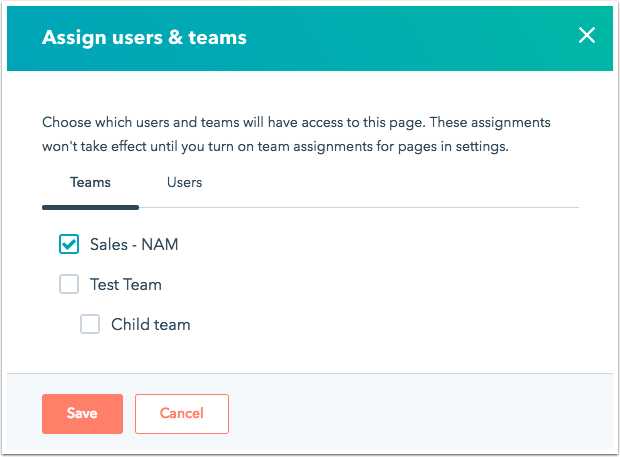 Please note: any new or bulk changes from the content dashboard will override existing team assignment settings for selected pages.
Enable

team assignments for your content tools
After you've assigned content to your users and teams, any user with Admin access can enable the feature for your pages or blogs in your Users & Teams settings.
In your HubSpot account, click the settings icon

settings

in the main navigation bar.
In the left sidebar, navigate to Users & Teams.
Click the Teams tab.
In the Manage which tools use team assignments section, click Manage.
Click to toggle the Pages and/or Blog switch on to enable this setting and enforce the team assignments for your content.
Users with Admin access will still be able to access all content across all tools and filter their content dashboard by team using the All teams dropdown menu.
Who can see new content after team assignments are enabled
If a user who is a member of a team creates a landing page, that landing page is automatically assigned to the team that the user is on and to all of the parent teams associated with it. For example, a user may work in the "Rhode Island Team" but their manager works for the "U.S. Team". When the user creates a new landing page, it's automatically assigned to the "Rhode Island team" and the "U.S. team".
If a user with Admin access is not a member of any team, any new content they create will only be visible to them and any other users with Admin access.