Create contact-based workflows to enroll and take action on contacts or any of their associated records. Learn how to create company-based, deal-based, ticket-based, or quote-based workflows.
Workflows automate actions and business processes for multiple contacts at once. If you want to automate your communication with leads and prospects using personalized, well-timed emails, learn more about using sequences.
Please note: this article walks through creating standard, or Start from scratch contact-based workflows. Learn how to create Center on a date or Center on a date property contact-based workflows to schedule and execute workflow actions relative to a specific date.
In your HubSpot account, navigate to Automation > Workflows.
In

the upper right

, click

Create workflow.
In the left panel, choose whether you want to start your workflow from scratch, or from a template.


Start from scratch: to begin with a blank workflow, click the Start from scratch

tab then select

Contact-based

as your workflow type in the left panel. Then, in the right panel under

Choose type, select

Start from scratch.

Learn more about

contact-based workflow types

.




Templates: to start with a default set of enrollment triggers and actions, click the

Templates

tab. In the left panel, filter the templates using the Type

dropdown menu, or the search bar to search. Select a template to preview the enrollment triggers and actions on the right.



Click the

pencil icon

edit

to give your workflow a name, then click

Create workflow.
In the workflow editor, click

Set enrollment triggers.
In the right panel, select if the workflow should be triggered Automatically or Manually. Learn more about manually enrolling objects into workflows.
By default, contacts will only be enrolled in a workflow the

first

time they meet the enrollment triggers. Learn more about adding re-enrollment triggers to workflows.

To enable re-enrollment, click Change re-enrollment options.
Select the Allow contacts who meet the enrollment triggers to re-enroll when any one of the following occurs checkbox.
Select the trigger(s) you want to use for re-enrollment.
Click Done.
Add more enrollment triggers if needed.
When you're done, click

Save.
Set

up the details of the action,

then click

Save

.

Click the

plus icon +

to add more workflow actions.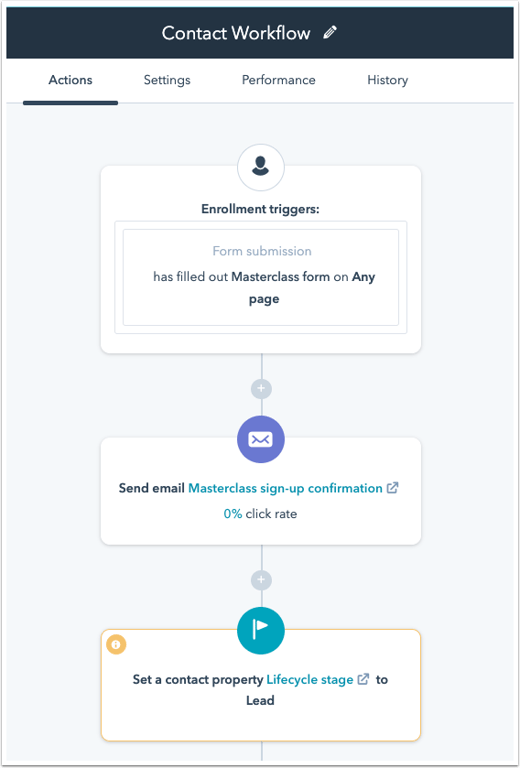 If your workflow actions include

sending a marketing email

to enrolled contacts

, it's recommended to set a workflow goal to measure their engagement with your content and success of your workflow. Learn more about using goals in contact-based workflows.

In the upper left, click

goal

Set goal.
In the dialog box, select your goal criteria. When you're done, click Save.

Next, click the

Settings

tab. Here, you can manage your workflow settings, such as selecting what days of the week you want actions to execute, or adding a suppression list to the workflow. Learn more about managing contact-based workflow settings.
In the upper right, click Review

.

Review your workflow settings, then click Turn on.
A dialog box will appear informing you that the workflow has been turned on.