Track and log emails with the HubSpot Sales Office 365 add-in
Last updated: January 19, 2023
Use the Track and Log features of the HubSpot Sales Office 365 add-in to monitor and keep a record of your contacts' engagement with your emails. With the track feature enabled, you can receive real-time notifications when a contact opens your email. You can also choose to log the email to the contact's record in HubSpot to keep a record of all past communication for your team to reference.

You can review email open and click information in the activity feed; logged emails are saved to individual contact records and their associated records.

Please note: if you've enabled General Data Protection Regulation (GDPR) functionality in your account, your legal team is the best resource to determine how your company uses email logging and tracking. You can also customize your extension settings to disable this functionality for a specific message or for specific contacts or email domains. In addition, email opens can only be tracked for contacts with an assigned legal basis for data processing. Learn more about email tracking when GDPR settings are enabled.

Before getting started, understand the difference between tracking and logging emails: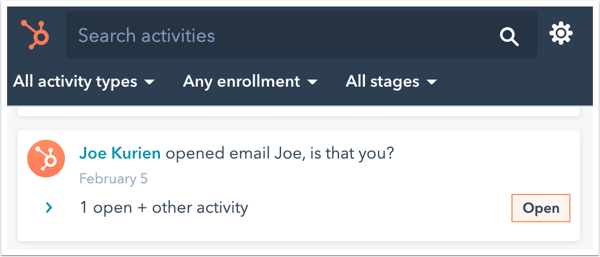 Log: use the log feature to log a copy of an email to a record in HubSpot. Any attachments included in the email will also log to the contact's record. Log your emails to keep a record of past communication. Logged emails do

not

give you insight into open or click information.

Keep in mind that you can send an email that is both tracked and logged. That way, you'll have a record of the email communication and can track a contact's engagement with the email.
Please note: the add-in task pane must be open in your inbox when you send a logged or tracked email. You can pin the task pane so it is always open by default in your inbox.
This article covers tracking emails and logging emails with the HubSpot Sales Office 365 add-in. If you're using the Outlook desktop add-in, learn how to track and log emails with the Outlook desktop add-in.
Thank you for your feedback, it means a lot to us.