View, manage, and analyze your ad campaigns on your ads dashboard in HubSpot.

In your HubSpot account, navigate to Marketing > Ads.
The ads dashboard displays all your existing ad campaigns in your connected ads accounts. In the top left, use the filters to filter data by attribution report, accounts, date range, or campaign status.
The first report shows the impressions, clicks, leads, number of new contacts, and deals generated from your selected ad campaigns.
The table shows the following campaign metrics: campaign name, account name, type, impressions, clicks, total contacts, customers, cost per contact, spend, revenue, and ROI. Click a column header to sort campaigns by a specific metric, and

click a

campaign name

to drill down into a specific campaign's metrics.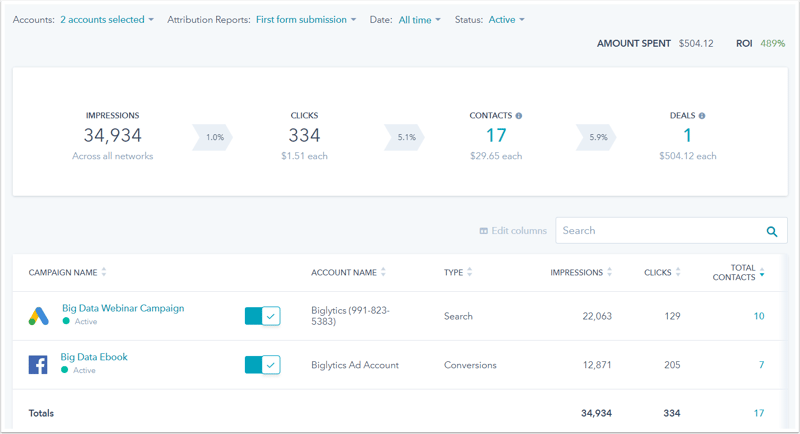 Please note:
Cost per contact is a HubSpot-specific metric and is not visible to external ad platforms. It's not recommended to compare this metric to metrics in other ad platforms, as they are unable to calculate it without visibility into your HubSpot contact database.
It's recommended to match your time zone in your HubSpot account and your external ad platforms to avoid discrepancies between metrics such as ad spend.
If you have a Google Ads search campaign in HubSpot, you can

view a list of keywords associated with each ad group along with their performance.

C

lick the name of an ad group.
In the upper left of the table, click the Ads dropdown menu and select Keywords.
Filter ad campaigns by attribution type
You can filter your ad campaigns by attribution type to see how your ads are influencing your contacts across every stage of their customer journey.
Please note: CRM Free, Marketing Hub Starter or Basic accounts only have access to the Influenced first form submission report. Marketing Hub Professional and Enterprise accounts have access to all other attribution reports.
You can filter ad campaign data by the following attribution types:
First web session:

contacts who clicked an ad that brought them to your website for the

first time

. A contact will count in this report

and

the

First form submission

report if their ad click resulted in their first session on your website, and they filled out a form during the

same session

.
Influenced first form submission:

contacts who clicked an ad, then returned to your website at a later time to fill out their first form. L

ead ad submissions generally do not appear in this report.
First form submission:

new contacts who clicked an ad and then filled out a form for the

first time

on your website. The ad click and the form submission need to happen within the same

session

in order for a contact to be included in this report.
All form submissions:

contacts who clicked an ad and filled out a form at any time in their customer journey.

Re-engagement:

existing contacts who clicked an ad and re-engaged with your business.
The First form submission attribution report is selected by default. Selecting different attribution report types will only change the Contacts metrics, and metrics that are directly affected by the number of contacts (e.g., Customers and Cost per contact). Contacts may show up in multiple attribution report types, and some overlap is expected between the different attribution reports.
If you have a CRM Free, Marketing Hub Starter or Basic account, learn how to analyze your Facebook lead ads in HubSpot.