Navigate to your integrations
In your HubSpot account, click your photo or avatar in the top right-hand corner, then click Integrations.
Locate the GoToWebinar integration
Click the All Integrations tab and locate the GoToWebinar Integration. Hover over the integration and click View integration to begin.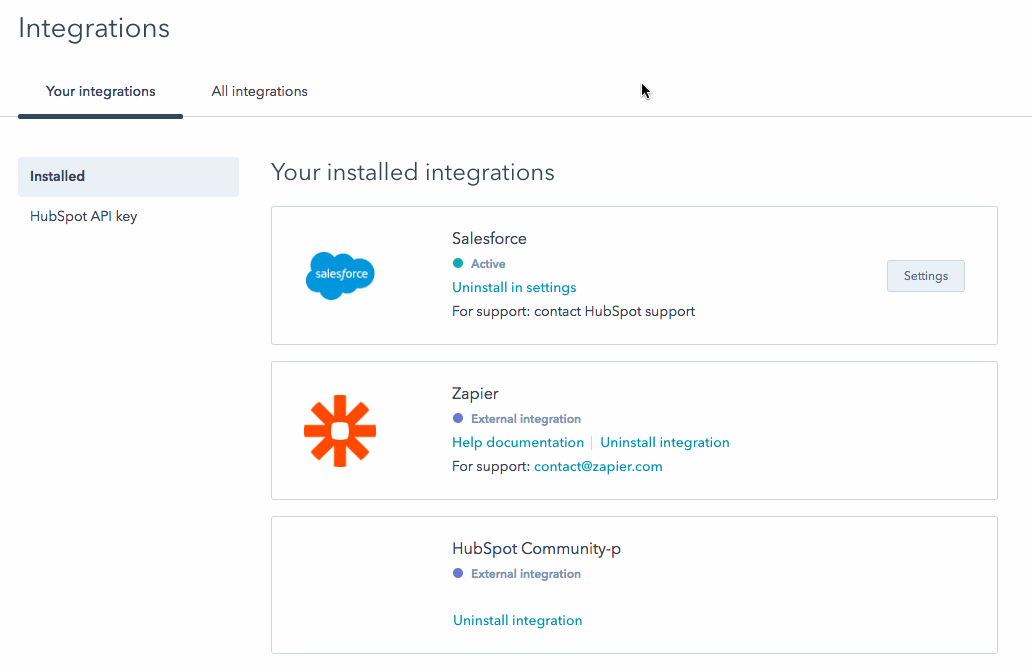 Authorize HubSpot to access your GoToWebinar account
Click Connect to GoToWebinar to allow the two accounts to connect.
Sign in to GoToWebinar
On the next screen, enter your GoToWebinar username and password to sign into your GoToWebinar account. When you are done, click Sign in.
Once you have logged in to GoToWebinar, your accounts will be automatically connected and you will see your upcoming and past webinars (if you have any) in HubSpot. You can disconnect your HubSpot and GoToWebinar accounts at any time by clicking the Disconnect button.
All of your webinars will be off by default, which means that HubSpot and GoToWebinar have not exchanged any data. When a webinar is off, it does not exist as far as the integration is concerned. This is helpful to see older or internal webinars you may have run in the past.
Turn your webinar on
For any webinar that you want to perform any action on (like creating a list or importing data from a past webinar), you'll need to turn it on. To do so, click the switch to the right of the webinar to toggle it on next to the desired webinar.

When you turn your webinar on, you'll receive a message indicating that HubSpot has imported registration and attendance data from GoToWebinar. You'll also see how many registrants and attendees were found in GoToWebinar under the Registered column.
Turn on past webinars
You'll want to add your past webinar data to HubSpot contacts for segmentation and scoring purposes. HubSpot and GoToWebinar stay in sync with each other within an hour after a webinar is turned on. That means you'll never have to manually import any data, because all data, including the creation of new contacts in HubSpot, will be automatically imported from a webinar. When you turn a webinar on, HubSpot will also import historical webinar activity for a contact, which is added to the contact timeline in the Contacts Overview.
You should turn on any past webinars that have valuable data in them so that you get a more complete picture of your contacts database in HubSpot. To turn them on, simply toggle the button to ON, like you did in the previous step for Upcoming Webinars.
Please note: at this time, HubSpot's GoTo Webinar integration can only be integrated with one account. You can use the
Zapier integration
to set up a simple integration with a second GTW account.