Navigate to email
In your HubSpot Marketing Hub Basic, Professional, or Enterprise account, navigate to Marketing > Email.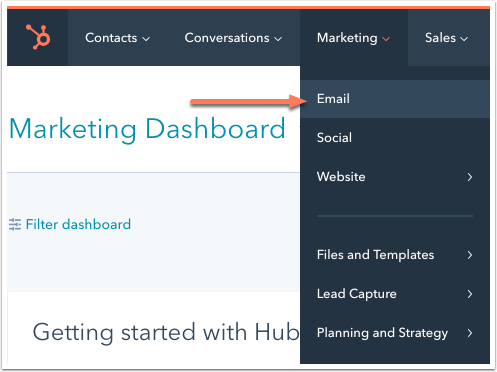 Choose or create your email
You can either create a new email here or edit a draft you already have. If you want to create a new email, click Create email at the top. If you want to edit an existing draft, click Draft on the left side. Hover over the email you would like to edit and click Edit.
Email editor
Once you've chosen or created a new email, you'll be in the email editor. Navigate to your
Main Email Body
and write your content within that section by clicking within the module. You can see the text that needs to be replaced with personalization in the example below. In this example, we'll replace "there" with a first name personalization.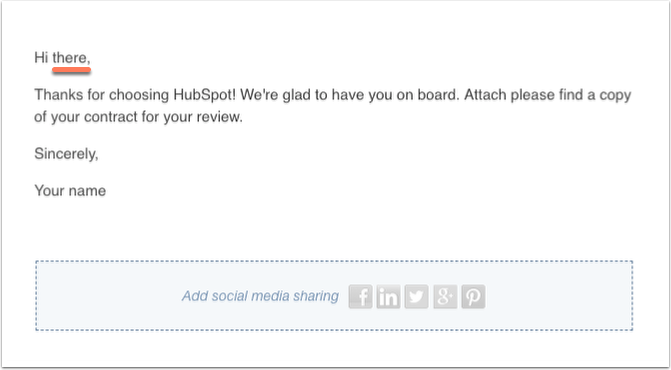 Personalization
Highlight "there" and delete that text. In the rich text editor, click Insert > Personalization Token or click the personalization token icon.
In the pop-up window, select Contacts as your property type. Search for the First name property in the next dropdown. Click Insert to add the token into your email.
This will now have placed the first name personalization token after "Hi" in the email, and you should see the token appear there with the name of the property being used with a green background. The green background is an indicator that you're using a personalization token in that space.
Default values
When you click the icon to insert a personalization token and are taken to the pop-up window, you'll also see a text field to enter a Default value. This gives you fallback text if you create a personalization token that doesn't have any value in the matching contact property. So, if you insert a personalization token for First name but the contact you sent to has no first name on their record, it will show the default value text instead.
Below, the local default value is set to "there" so if this email gets sent to a contact that has no first name on their contact record, it will say "Hi there" in the email sent to them.
You can also choose to Use this property's global default value, which is the default value you set in your account settings for the specific property.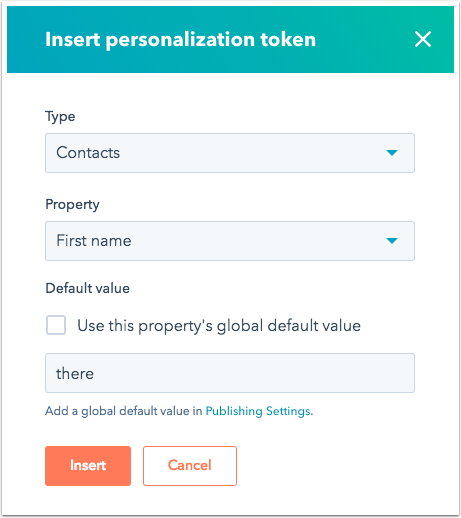 Preview your tokens
Once you've inserted the personalization tokens for your email, you can preview how these will look to ensure you've set up the tokens as expected.
To do this, click the eye icon on the left side of the email editor. In the Preview page as a specific contact dropdown, choose a contact to test with. This will change the preview in the email editor so you can view it as if you were a specific contact in your database.
You can also preview your email personalization when sending test emails.