What is personalization?
By using what HubSpot calls personalization tokens, you can customize your content to your viewer.
When you have first time visitors, you will display "default" content which is content that could be applicable to any and all visitors to your website. When your visitor comes back after previously submitting on a form on your website, or is a customer, HubSpot recognizes them and is able to generate a personalized message for them.
Navigate to your HubSpot page or email
In your HubSpot Marketing Hub Basic, Professional, or Enterprise account, navigate to Email, Landing Pages, or Website Pages in the main navigation menu.
Once in the email, landing page, or website page dashboard, hover over the name of the content you are editing and click Edit. Or click the orange Create landing page/website page/email button.
Insert personalization tokens
In the content editor, navigate to a rich text module. If you're doing this within an email, you can insert personalization into rich text modules or your main email body, too.
In the editor, locate the module where you'd like to add personalization. Place your cursor where you want to place your personalization token, then click Insert > Personalization Token.
In the Type dropdown menu, you have three property types to choose from for personalization:
Contacts: tokens from this category look into the contact record and all properties associated with contacts in your HubSpot database. Tokens for first name, last name, and email live here.
Company: tokens from this category look into associated companies with contacts in your HubSpot database. Tokens for total revenue, industry, and name live here.
Office Location: tokens from this category look into the address you have specified in your HubSpot settings. Tokens for city, state, and zip code will live here.
Please note: if you would like to use properties specific to the contact or company owner, which pulls from the HubSpot user profile settings, first select a property type then search for the contact or company owner property.
Once you select your personalization type, click the Property dropdown menu and select a property to use as your token. If you select Contact owner or Company owner, use the User property dropdown menu to select a token that will pull from the user's profile. Then click Insert.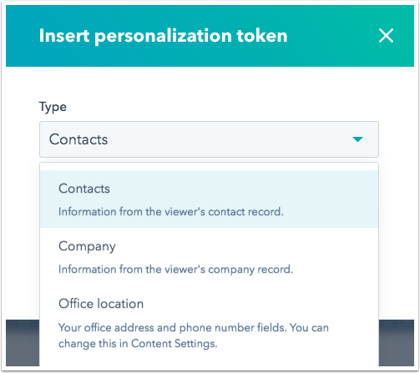 In the example below, the first name personalization token is used in the rich text content area. Select the Contacts property type, then searched for
the
First name
property that lives on every contact record in HubSpot. For example, if your visitor's first name is John, they will see "Hey, John!" when they come back and visit the website.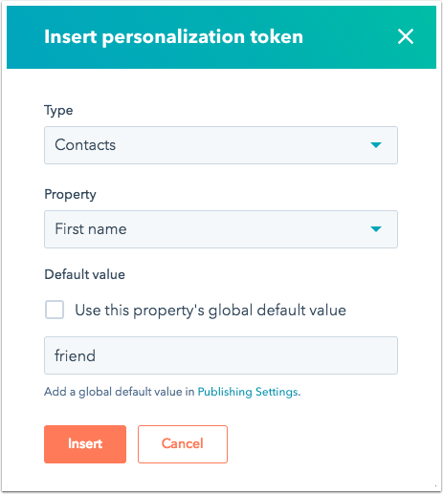 You'll know you've done this successfully when you see the name of the token with a green background:
When you are finished, click
Update
or
Publish
. If you are editing an email, click
Save
or
Send or schedule
.
Using default values
It is important to set a default value for any personalization token that you implement into your HubSpot content. Default content is what will show if there is no value to be pulled from the contact or company record.
For example, if you want to use the first name personalization token in your page or email, but one of the contacts visiting your site happens to not have a value for this property on their contact record, HubSpot will use the default value in its place.
You have two options when setting default values for your personalization tokens: global defaults and local defaults. Global defaults are set in your account settings, and can be used by checking the Use this property's global default value box. Local defaults allow you to set a default value for each individual token used in the content editor. This is beneficial when sending variations of your email in different languages, or if you're using a personalization token twice in the same email, but you need the default value to change in each instance.
In the example below, the local default value for the First name property is set to "friend." If your email is meant to say "Hi John!" but John's contact record is missing his first name, it will say "Hi friend!" instead.
Please note: if you are using personalization tokens on a thank you page, the values for these tokens will only populate for known contacts. If a new contact fills out a form and is redirected to a thank you page with a token, there isn't enough time for the data to process and populate the right information. If a default value is set, the new contact will see the default value on the thank you page.