You can create a workflow based on company or deal objects and their associated records. Use a workflow to enroll and update companies, deals, or any of their associated records.
In your HubSpot account, navigate to Automation > Workflows.
Click Create workflow in the top right corner.
Select Company-based or Deal-based as your workflow type. Click the pencil icon

edit

to give your workflow a name, then click Create workflow.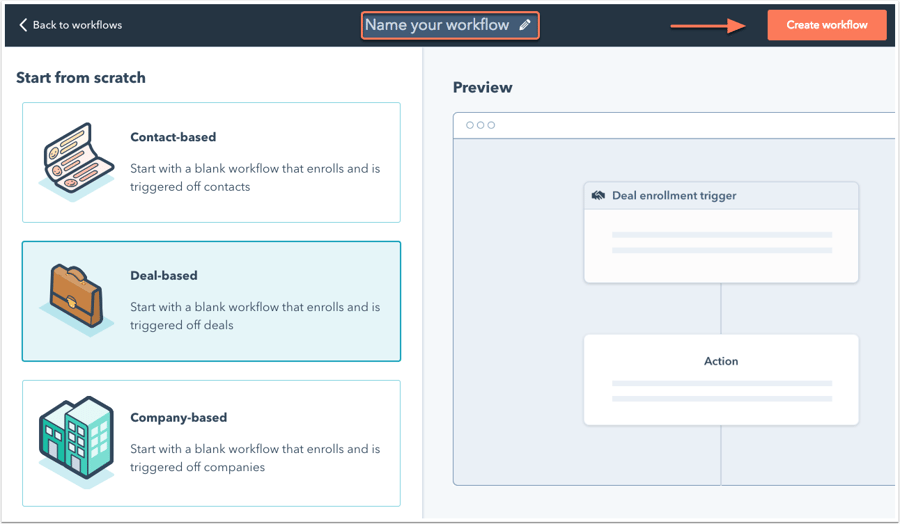 In the workflow editor, click Set enrollment triggers.

In the

Trigger tab, click a Filter type

to use property values from a company, deal, or any associated records as criteria for enrollment

.

After you've made your selection, click Save.
Click the plus (+) icon to add a workflow action. In a company-based or deal-based workflow, you can do the following:
Please note: to use the marketing email action, you must have a Marketing Hub Basic, Professional, or Enterprise subscription. Marketing emails sent through a workflow must be published for automation.
Choose your

action,

then click

Save

.

Click the plus (+) icon to add any more workflow actions as needed.
Click the Settings tab.
On the Settings tab, click Set unenrollment triggers if you want companies or deals to be unenrolled from the workflow when they meet certain criteria.
In the Unenrollment triggers pane, choose a Company or Deal property to use for your unenrollment criteria.
Click Apply filter.
Click Save.
Once you're ready to enroll your companies or deals in the workflow:


In the top right, click the

Workflow is OFF

toggle.
Click

Yes, turn on

.
Please note: when a company-based or deal-based workflow is turned off, all records enrolled in the workflow will be unenrolled. This includes any companies or deals that are in a delay when the workflow is turned off.