This article provides an overview of how the HubSpot navigation is organized.
You can also find a list of menu items from the previous version of the navigation for Marketing Hub and CRM Free and Sales Hub, with updated navigational instructions for each.
How the new

navigation is organized

All the HubSpot tools have been organized in a consistent navigation layout for all HubSpot products. Tools are grouped together based on how they support your business process, resulting in fewer clicks and a more streamlined workflow.

Here is an overview of the top-level items in the updated navigation, and the HubSpot tools included in each:
Contacts: everything related to contacts, companies, and your interactions. This menu includes Contacts, Companies, Lists, and a customizable Activity Feed.
Conversations: a central space for all of your direct communication with your contacts. This menu includes Snippets, Templates, and an Inbox to track engagements.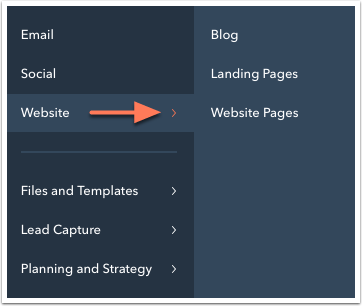 Service: your service-specific tools: Feedback, Knowledge Base, and Tickets.
Automation: here you'll find tools to automated your marketing, sales, and service processes:

Sequences

and

Workflows.
Reports: analyze trends across all of your HubSpot tools. This menu includes Analytics Tools, Dashboards, and Custom Reports. Analytics Tools includes Traffic Analytics, Ads, Events,

Campaign Analytics, Sales Content Analytics (for your templates, sequences and documents), Competitors, Links, Tracking URL Builder, and Prospects.
Settings

settings

: all of your account and product settings are now located in one place. Navigate to each part of your settings using the left sidebar menu.
Partners: HubSpot partners and marketplace providers will have a Partner menu to track their listings, transactions, and account and profile information.
Academy: HubSpot Academy resources are now located under your account menu in the Learning Center.
Account: your account menu in the upper-right corner remains mostly consistent with the classic navigation except for the addition of the Learning Center. Your Account Settings have been moved from this menu and added to the left sidebar of your general settings (settings icon

settings

).
Updated navigational instructions for Marketing Hub tools
Previous menu item: new navigational path
Dashboard: Reports > Dashboard
Contacts:
Contacts: Contacts > Contacts
Companies: Contacts > Companies
Lists: Contacts

>

Lists
Workflows: Automation > Workflows
Forms: Marketing > Lead Capture > Forms
Lead Scoring: Settings icon

settings th

>

left sidebar:

Marketing
Collected Forms: Marketing

>

Lead Capture

>

Collected Forms
Contacts Settings: Settings icon

settings th

>

left sidebar:

Marketing > Contacts & Companies
Content:
File Manager: Marketing > Files & Templates > Files
Design Manager: Marketing > Files & Templates > Design Tools
Strategy: Marketing > Planning & Strategy > Content Strategy
Website Pages: Marketing > Website > Website Pages
Landing Pages: Marketing > Website > Landing Pages
Blog: Marketing > Website > Blog
Email: Marketing > Email
Calls-to-Action: Marketing > Lead Capture > CTAs
Ads: Marketing > Lead Capture > Ads
Lead Flows: Marketing > Lead Capture > Lead Flows
Marketplace: Marketing > Files & Templates > Template Marketplace
Content Settings: Settings icon

settings th

>

left sidebar:

Marketing
Social:
Monitoring: Marketing > Social
Publishing: Marketing > Social
Reports: Marketing > Social
Social Settings: Settings icon

settings th

>

left sidebar:

Marketing > Social
Reports:
Reports Home: Reports > Custom Reports
Analytics Tools: Reports > Analytics Tools
Productivity:
Projects: Marketing > Planning & Strategy > Projects
Calendar: Marketing > Planning & Strategy > Calendar
Campaigns: Marketing > Planning & Strategy > Campaigns
Updated navigational instructions for CRM Free & Sales Hub tools
Previous menu item: new navigational path
Dashboard: Reports > Dashboard
Contacts: Contacts > Contacts
Companies: Contacts > Companies
Deals: Sales > Deals
Tasks: Sales > Tasks
Sales Tools:
Activity Feed: Contacts > Activity Feed
Snippets: Conversations > Snippets
Templates: Conversations > Templates
Sequences: Automation > Sequences
Documents: Sales > Documents
Prospects: Reports > Analytics Tools
Meetings: Sales > Meetings
Messages: Conversations > Messages, Conversations > Inbox
Workflows: Automation > Reports
Reports:
Analytics Tools: Reports > Analytics Tools
Dashboards: Reports

>

Dashboard
Settings: Settings icon settings th> left sidebar: Sales